Most people dribbling a basketball

[Oct 29] INDIANAPOLIS,IN, US--More than 4,600 people from 152 Indiana cities and a total of 10 states dribbled basketballs from Monument Circle to Conseco Fieldhouse in Downtown Indianapolis on Sunday and set a new world record for most people dribbling a basketball.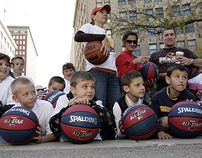 Photo:Ron Hoskins/NBAE/Getty Images

"I thought, 'This is basketball, this is Indiana -- we've got to have this record,' " said Jeff McCoy, a spokesman for the Indiana Pacers and one of the originators of the record-breaking plan.

The event was part of the Indiana Pacers Hoosier Basketball Celebration on Sunday at Conseco Fieldhouse.

They broke the record of 1,111 people set by the Flora Hill Secondary School in Australia. The number stands at 1,111 after an attempt in Edinburgh, Scotland failed last year.

But the event was about more than the record. "This is really a celebration of basketball throughout the state, from junior league to the pros. It means so much here we thought everyone should get to take part in this record," McCoy said.

Led by the whole Indiana Pacers squad and coaches, participants caused Downtown Indianapolis to rumble for several minutes with the sounds of balls hitting pavement as they dribbled their way to the Fieldhouse.

The skill level among the crowd varied, evident as some dribblers crept along the roads, focused intensely on the ball in their hands. Braver participants took on imaginary defenders with crossover moves, dribbles behind their back and through their legs and more. But it didn't matter how the participants got there, as long as they kept a ball bouncing for at least five minutes.

Fans were greeted along the way by Boomer, the Pacers mascot, as well as passersby who stopped to stare and take pictures. "I had a blast. I've never done anything like this. I enjoyed it. I can't wait to buy the book," said Emoria Scott, 48, Indianapolis, referring to the World Records book she expects to include the Indianapolis dribble record. Scott came out with her brother and his grandchildren.




Fastest single-turbine engine plane