Most kite flying-world record set by Aussie scouts
[Aug 19] SYDNEY, Australia-- MORE than 1100 kites have flown over Adelaide's most popular beach to break a world record set in the United Kingdom earlier this year.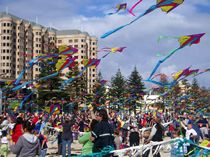 The event, WindJam07, co-organised by Scouts SA as part of its centenary celebrations, was held yesterday at Glenelg.
(click here to enlarge photo)

The first attempt saw 1014 kites in the air, a new unofficial world record. However, the second attempt saw the number rise to 1127.

The record attempt was overseen by a senior police official and Justice of the Peace. Fireworks were set off from the Glenelg Jetty to signal the start of the world record attempt.

Scouts SA marketing manager Steve Hastwell told AAP that official records showed 1127 kites in the air, but unofficially there were closer to 1600 kite flyers on the popular beach.

The kites were on three metre strings to avoid collisions and kites becoming tangled.

The previous record was set in April by Rotary and UK Scouts with 927 kites in the sky at once over Bournemouth.

Already the scouts are planning WindJam08 and breaking their own record next year.