Updated record title* to:

Largest Golden Wedding Vow Renewal sets world record in Bucharest

Largest Wedding Vow Renewal set world record in Bucharest

[July 7] BUCHAREST, Romania-- 305 couples who are married for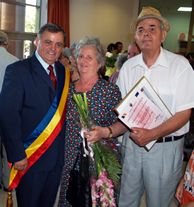 more than 50 years were reunited today in Bucharest for their wedding vow renewal and set a new world record for the largest wedding vow renewal.
(click here to enlarge photo)
Photo: www.ps2.ro
This new world record will be featured in our next edition of Book of Records.
"The Golden Marriage" - a Romanian tradition to celebrate those who are married for more than 50 years- was hosted by the Bucharest's Second District City Hall Mayor Neculai Ontanu.
"We hope to hear from you, those who succeed living together so many happy years, the Secret of a happy and long marriage" said mayor Ontanu. "During a time of dramatic changes, we still have same universal values: love, understanding, care for others, loving children, the power to forget and understand and go forward, always, with love."

The "Golden Marriage" celebration was joined in by more than 1,000 guests. The official ceremony included a religious service, messages from high respected artists, film directors and the mother of Romanian Prime Minister.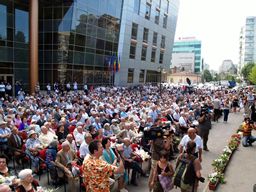 After the wedding vow renewal, the 305 pairs were offered a champagne reception by the mayor Ontanu and the possibility to attend as special guests some of the 91 new marriage concluded today.


Renewing wedding vows is not a legal, religious or civil action, so proof of marriage is strictly for the record-book officials' count.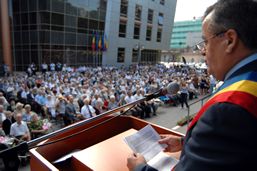 All the 305 pairs were offered Certificates of wedding vow renewal and their guests got also attending certificates. The mayor has to get one from the World Record Academy, too for this new world record.
(click to enlarge)
Rompres photo


The previous world record was set in March of 2002 by Orlando Harley Davidson with 234 couples that traveled from 30 different states and 6 different countries to participate in the event.

The next world record attempt for the largest wedding vow renewal
will be hosted by the organizers of Pittsburgh's 250th anniversary celebration next year, on the weekend before Valentine's Day: Sunday, Feb. 10.
They hope to attract 1,000 couples to a nondenominational ceremony at Carnegie Music Hall in Oakland and get the city into the Book of World Records.

Link: The official list of 305 couples (pdf file)

Photos: www.ps2.ro, Rompres

Link: Rompres photos, click here


*World Record Academy's rules for this type of record

To break this record, you need to:
# accept only pairs which have been married at that particular municipal council;
# each couple have at least a 5 years-long marriage; there is no point to "renew" your marriage after 1 day or so...
# according to the marriages certificates, the total "marriages years" will be obtained by adding the number of years of all marriages.
Example (for this record):
305 couples x 50 years-long marriage/each =15,250 years