Largest Line Dance-world record set by Atlantans
[Aug 28] ATLANTA, US--More than 17,000 Atlantans broke the World Record for the world's largest line dance at the 2007 Ebony Black Family Reunion Tour.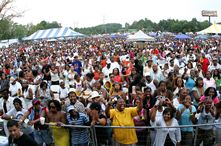 Photo:Coca-Cola North America sponsors World Record breaking event for the largest line dance.Photo: Horace Henry, courtesy of Coca-Cola North America.

Organized by Coca-Cola North America, participants danced for eight minutes at Cascade Field in Southwest Atlanta. The crowd performed to the "Cupid Shuffle" led by recording artist Cupid.