Largest Group to learn dancing set world record in Moscow
[July 26] MOSCOW,Russia --Muscovites set up a new record in mass dancing, which was immediately registered in the Russian book of records.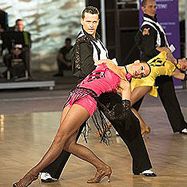 1830 people came together to Moscow Stadium of Luzhniki at 4.30 pm and started to learn Cha Cha Cha. The lesson was given under the only dance coach, who managed to control all the dance lovers trying to repeat the movements shown by him.

Besides, another record was set during the "Learn to dance!" festival held in Luzhniki. Every guest could try different dance styles – hip-hop, jazz-modern, ballroom dancing, tango, flamenco, etc.
Source: www.utro.ru