Largest group hug-world record set by Ottawa students

[April 25] OTTAWA, Canada--More than 10,000 students and teachers from 10 Ottawa-area schools joined forces Friday to shatter the world record for the largest group hug (Bear hug).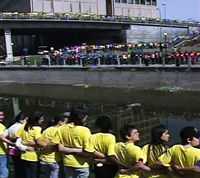 The group hug, a fundraiser for cancer care in the Capital, spanned from Laurier Street to the Pretoria Bridge along the Rideau Canal.
(enlarge photo)
"It's amazing that there's so many people doing this for a good cause," Simon Tomlinson, a student at St. Matthew's High School, told CTV News.
The group was able to raise more than $110,000 for cancer care prior to the day's hug. Organizers say they hope the total figure will reach $300,000.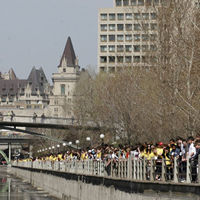 Photo: Students and staff from 10 local schools sets new World Record for bear hug on Friday, making Ottawa the Bear Hug Capital of the world while also making a significant donation toward cancer research and care. Photograph by : Pawel Dwulit/ The Ottawa Citizen
(enlarge photo)

Other participating schools were St. Peter High School, Mother Theresa High School, Notre Dame High School, Lester B. Pearson High School, St. Joseph High School, St. Pius X High School, Sacret Heart High School, Immaculata High School and St. Matthew High School, where the 2004's Bear Hug set a world record before being overtaken by New Mexico.

"It takes a whole year of planning to make this 10-second hug take place," said Monique Amyot, an organizer. "It happens so fast, but if you come to the event itself, it's amazing."

The original Bear Hug event was inspired by Grade 8 student Erin Gannon who passed away from cancer just days after the record was broken. While the organizers of Bear Hug II know the fundraising record will be tough to break, getting the Bear Hug record back should be a lot easier.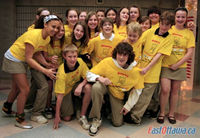 "I've been going door-to-door almost every night," explains Grade 8 student Simon Tomlinson, who has collected over $1,000 and currently sits as the school's biggest fundraiser.
Photo by Darren Brown (enlarge photo)
"I've reached my goal, but I want to keep going."

Andrew van den Hoeven, whose two grandparents have had to battle cancer, has raised more than $1,200 on his own. "I went door to door every night and talked to my family and friends. It's for a good cause. My grandfather is currently fighting cancer, so it's the least I can do," says the 13-year-old Grade 8 student.

Using the bear hug project as the launching point for such a massive fundraising effort is "a neat way" of collecting money, continues Grade 8 student Andrew Van der Hoeven, St. Matt's second-biggest fundraiser, calling the potential record grab a big motivator.

The first Bear Hug event was held in 2004 and had more than 5,100 students hug in the schoolyard behind St. Matthew High School.

Notre Dame High School student Matthew Corluka said this was a chance for students to do something special for a good cause. "We're coming together and putting our names on the map for doing great things. That's trying to raise money to treat and eradicate cancer," he said.
(enlarge photo)

Proceeds from the fundraising effort will go to Cancer research and patient care at CHEO, the Ottawa Hospital and the Ottawa Senators Foundation.

The bear numbers:
Ten high schools
10,573 students,
810 staff members,
200 bus drivers and
200 volunteers participating.

Where it al began: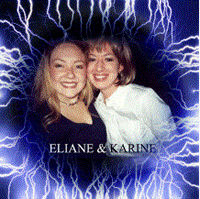 Eliane's best friend Karine was diagnosed with Cancer at the young age of 22 years old. She fought a brave battle but lost her life to cancer at the young age of 23.
During her ilness she inspired everyone around her to live life to the fullest.
(enlarge photo)
In her honor and in the memory of many loved ones the FORCE was born and with it a year long commitment to raise funds for patient care and cancer reserach.

Click here by May 2 to make your donation

Previous world record:
The previous world record fot the largest group hug involved 6,623 participants who gathered in Chamizal Park in Juárez, Mexico on 25 September 2005.

Here are the rules for this record:
1. The numbers of participants are confirmed by individuals signing their own names once only on a form witnessed by two independent persons. no "ditto" marks accepted.
2. Participants must stand in a circular ring formation, within arm's reach of the person either side of them. The circle should only be one person deep - participants in any inner rings will not be recognised.
3. The circle cannot fold in on itself in any way.
4. Each person should put their right arm round the waist of the person on their right, and their left arm round the waist of the person on their left. At a given signal, each participant should squeeze the person on either side of him or her, holding the hug for a minimum of 10 seconds.