Tuesday, July 24, 2012

Largest Gathering Of People Dressed As Cats: UK Shelter sets world record (PICS & VIDEO)

Bridgend, UK -- 211 people donned fluffy ears, tails and feline masks on Adare Street during the 'Catathon 2012', organised by Cats Protection's Bridgend Adoption Centre to raise awareness of the thousands of unwanted cats and kittens that the charity helps to re-home - setting the new world record for the largest gathering of people dressed as cats, according to the World Record Academy: www.worldrecordacademy.com/.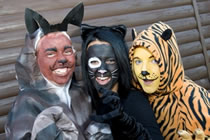 (enlarge photo)

The Guinness world record for the Largest collection of cats was set by Carmen de Aldana (Guatemala), who has 21,321 different cat-related items.

Guinness World Records also recognized the world record for the most people dressed as Smurfs: 2,510 - achieved by Jokers' Masquerade with the help of Swansea University at Swansea Oceana in Swansea, UK.

Sue Dobbs – "catathon" organiser and manager of the Cats Protection Bridgend Adoption Centre – said for Thye Wales Online: "We've had an absolutely fantastic response from the local community – I want to say a big thank you to them all."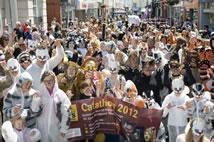 (enlarge photo)

""I hope that everyone had a fun day, but also remember what it's all about. I hope that everyone who supported us this weekend will consider adopting a cat or kitten."

Related world records:
Most people dressed as mobile phones: Caterham School sets world record (PICS)

Most people wearing paper crowns: British Camping Club sets world record (PICS)

Largest Decorated Hat Contest: Edward Feild Primary School sets world record

Largest gathering of Ninja Turtles: MOA sets world record (Video)

Largest Bikini Parade: Panama City sets world record (Video)

Most people wearing animal noses: Gilda's LaughFest sets world record (Video)

Most people wearing paper hats: Leeds pupils sets world record

Most people dressed in white for a cause: Castle Lite sets world record (Video)

Largest gathering of Christmas jumper wearers: Ireland

Most people in a nativity scene: Welton Baptist Church

Most people dressed up as turkeys: Dallas Turkey Trot (Video)

Largest gathering of skeletons: Jokers' Masquerade (HD Video)

Most People Dressed as Video Game Characters: Buyseasons Inc. (Video)

Largest underwear parade: Utah Undie Run (HD Video)

Most People Dressed as Superman: Nexen staff set (Video)

Longest bikini parade: Australia (Video)

Most costumed riders on a theme park ride: Dorney Park (HD Video)

Most people dressed as sunflowers: Thorndown School set world record

Largest gathering of pirates: Penzance (Video)

Most people dressed as smurfs: Smurfs Day (HD Video)

Most People dressed as Sunflowers: Siren (Video)

Largest gathering of people dressed as Wally/Waldo: Cork (Video)

Largest gathering of people dressed as storybook characters: Chiswick House School sets world record

Largest Blonde Parade: Go Blonde Festival (HD Video)

Largest gathering of people wearing masks: Angel fans (HD Video)

Most people dressed as 'morphs: Drayton Manor theme park (HD Video)

Largest Bikini Parade: Nashua Bikini Parade

Most Santa hat wearers in one place: Brockton

Most people wearing a frog mask: Texas Tech students (Video)

Most people in a mustache contest: The Newport Winter Carnival

Most people dressed in green: The Green Festival

Most people dressed as Star Trek characters: Namco Bandai Partners

Largest gathering of storybook characters: Carrs Glen Primary School

Tuesday, July 24, 2012 11:21 AM