Largest family to complete a marathon-O'Donoghue clan

[Oct 30] DUBLIN, Ireland-- A family of 15 siblings made their way into the record books after completing the Dublin City Marathon.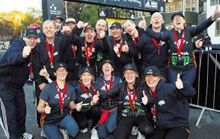 The nine brothers and six sisters. , who are aged from 32 to 52, immediately entered the World Book of Records.

They had to finish in under eight hours to beat the previous record of 13 siblings and held by a US family.

The last family member crossed the line in under 6 1/2 hours, obliterating the previous record.

The words to Thin Lizzy's 'Do anything you want to' blared over Robert O'Donoghue's MP3 player as he raced towards the finishing line.It was the motivation he needed to become the second member of his family to make it to the end of the 26-mile race in aid of Down Syndrome Ireland.

Siblings Noel, Mary, Therese, Adelaide, Pa, Margaret, Willie, Kieran, Joe, Robert, Cronan, Jimbob, Brenda, Kevin and Louise are all aged between 32 and 52.

The world-beating feat by the O'Donoghue clan from Birr, Co Offaly, helped raise more than 40,000 euro for Down Syndrome Ireland.

The family,from Birr, Co Offaly, have been dedicated to the Down Syndrome charity ever since Joe's son Mark was born with the condition two years ago.

For those who wish to support their efforts, the O'Donoghue clan have opened a fundraising account called the Little Owl Fund at the Bank of Ireland, Birr, A/C 78329199; sort code 90-16-77.

Robert added: "Phil Lynott told me: 'You can do anything you want to do'.

The previous record was held by the Weisse family of 13 in Wisconsin, USA.





Fastest single-turbine engine plane