Largest 'Debke' folk dance set world record in Acre

[July 24] Old City of Acre, Israel -- A record 2,743 people danced for seven minutes straight holding hands in a human chain that stretched down Hagana Street in Acre's famed Old City, smashing the previous record of 1,700 set in Toronto a few years ago.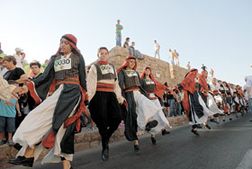 The Debke is a six-step dance that is performed while holding hands in a line.

Photo:
Israeli Arabs dancing the largest and longest 'Debka' routine in world history in Acre on Sunday. (Yaron Kaminsky/ Haaretz)

For years it has been a mainstay of weddings and communal celebrations in Jordan, Syria, Lebanon, and even Turkey and Iraq.
Participants came from over 30 Debke clubs located all over Israel, with shuttle busses bringing them from as far as Rahat in the Negev and villages on the Lebanon border.

Yihye Abu Juma'ah of Dir-al Assad, a coach for 12 Debke troupes, was in charge of organizing Sunday's record-breaking dance routine. He stated that the dance is over 500 years old and that to his knowledge there are no Jewish dancing troupes in Israel that perform the Debke, only distant variations on the Arab folk dance.
The record-setting event, broadcast live for two hours on the cultural events channel of the Arabic-language network Al-Jazeera, was the first time in history that any Israeli Arab has entered the Book of World Records.


Sources: Haaretz-Israel, Jewish Telegraphic Agency, NY