Largest dance class-world record set by Ryerson dancers

[Sep 12] TORONTO, Canada--To the strains of Jamiroquai's "Canned Heat," students and staff at Toronto's Ryerson University broke the world record for the largest dance class.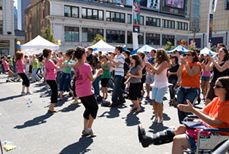 Ryerson dance students performed and led the throng through an original sequence for ten minutes, breaking the world record made on May 16 by 580 dancers in Birmingham, England.

School officials say 626 people, mostly first-year students, took part in the event Thursday afternoon at Dundas Square at the heart of the city's downtown.

The event took months to create and a heap of co-ordination between Ryerson Student Services, Ryerson's Orientation staff, the Rez Life staff, and 40 dance instructors from Ryerson's Theatre School.

Gaya Arasaratnam, the Orientation Co-ordinator, was happy with the outcome. "The student turnout was fantastic," she said. "We would really love to get Ryerson in the record books."

To break the record, more than 580 participants had to dance for 10 minutes.Two independent judges from the National Ballet School attended the event

The class was led by 40 student dance instructors from the university's theatre school. The event was part of the university's orientation week for new students.


Fastest single-turbine engine plane