NEW WORLD RECORD:
Largest Plastic Duck Race-world record set by the Great British Duck Race

Largest Charity Duck Race-British Duck Race sets world record

[Oct 19] LONDON,UK--165,000 plastic ducks flocked to the River Thames for the inaugural 'Great British Duck Race' on Sunday 2nd September each competing to win their owner £10,000.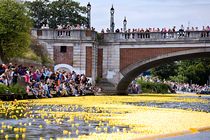 Not only did they smash the Guinness World Record for the 'World's Biggest Charity Duck Race,' previously held by Singapore, but also managed to raise more than £200,000 for various good causes.

Two thousand spectators came to Hampton Court to bask in the sunshine, cheer on their duck and have a quacking good time!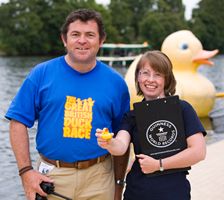 As well as the massive £10,000 top prize (won by Duck 157791), 29 other lucky winners scooped one of a number of great prizes, including £2,000 of Bathstore furnishings supplied by the Lead Sponsors - Bathstore.

Once the winning ducks were verified by a Guinness World Record adjudicator, the clean-up operation clicked into gear as ducks were hooked, packed and ready to be used again next year.

Over 450 charities from across the UK were involved and benefited from the funds raised at the fun-filled family event, which was started by racing pundit John McCririck, children's TV presenter Floella Benjamin OBE and the novelist Adele Parks.


A Duck Race of this magnitude has never been attempted in the UK before now but, in close partnership with the River Thames Alliance and the Environment Agency, it will be the first of many; it is hoped that the event, and money raised, will continue to grow and flourish.

To find out more about the Great British Duck Race, visit: www.thegreatbritishduckrace.co.uk

Previous records:
The Great Singapore Duck Race set a world record in 2000 with 100,000 ducks. In 2002, a new record was set when more than 123,000 toy ducks took to the Singapore River at Clarke Quay.
The race started in 1998 with 50,000 ducks.
(Source: Singapore Record Breakers)






Fastest single-turbine engine plane