Largest Ballet Class-world record set by The Oregon Ballet Foundation

[April 21] UNIVERSITY OF OREGON, USA--Donning tutus and leotards, 565 dancers turned out at McArthur Court Sunday, breaking the world record for the worlds largest ballet class.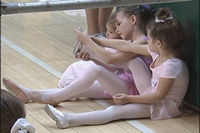 The Oregon Ballet Foundation organized the event. Executive Director Megan Murphy said ballerinas young and old came to help put Oregon on the international stage.
(enlarge photo)

"They are dancers from all different dance groups and organizations," said Murphy. "They're kids, families, parents, friends. We wanted to just have a fun dance event and provide a fun experience and break a record at the same time."

The current world record was set on February 25, 2006 in Pretoria, South Africa with 551 participants.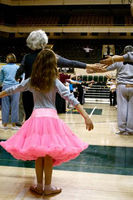 Honorary Ballet Master and Eugene Mayor Kitty Piercy led the class.

The price of admission was lowered from $15 to $5 to increase participation, and the money raised will be donated for a tuition-free boys' ballet class. The class is part of an effort to increase male participation in ballet classes.

(enlarge photo)

Aquene Amarys brought her 8-year-old daughter Indigo Amarys to the event after seeing a poster. "We thought that it would be cool to be a part of breaking a world record and we had nothing planned for today, so it fit," Amarys said. Amarys' daughter was introduced to ballet when she was five years old and doesn't have much experience.

As for next year, Murphy stated that she would like to see another organization head up the event as it is a complex, time-consuming endeavor.

Photos: Taylor Schefstrom, KVAL