500 children set world record at an opening ceremony
[June 1]ISTANBUL, Turkey--More than 500 students from 100 countries sang, recited poems and enjoyed a sunny day in Istanbul yesterday. The children are there to compete in the final leg of the Fifth International Turkish Olympics in the Feshane Culture Center in the Haliç region of Istanbul.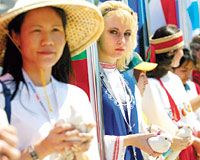 The children also entered the Guinness Book of World Records for being the first 500 people to cut a ribbon at any opening ceremony at the same time.

More than 500 students from around the world who traveled to Turkey to attend the ongoing Turkish Olympics released doves into the air yesterday to send a message of peace.
The doves were set free for the opening ceremony of the finals of the fifth International Turkish Olympics, bringing together Turkish learners from 100 countries around the world in a fun competition.

Perhaps the most symbolic message the students gave for world peace was hundreds of students cutting the ribbon to open the ceremony at the same time, a world record confirmed by the representative of Guinness World Records to Turkey, Orhan Kural, who was at the opening ceremony.

The coordinator responsible for the contests, Abdullah Yigit, said they hoped to have students from as many countries as are recognized by the United Nations. "We are probably going to have students from 120 countries next year," Yigit said.