Wednesday, December 21, 2011

Shortest Firefighter: 4ft 2in Vince Brasco sets world record

CARBON, PA, USA -- Standing at just 4ft 2in tall, Vince Brasco, 19, of Pittsburgh, Pennsylvania, has been a volunteer fireman in his area for four years , setting the world record for the Shortest Firefighter, according to World Record Academy (www.worldrecordacademy.com).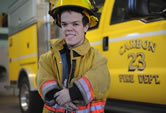 Photo: Vince Brasco, The World's Shortest Firefighter.
(enlarge photo)

The Guinness world record for the Fastest mile fireman's carry was 15 min 11.87 sec, set by by Ashrita Furman (USA) on 9 November 2005 at Liberty State Park, New Jersey, USA.

Guinness World Records also recognized the world record for the Worst fire disaster -damage tool - was set by the fire following the April 18, 1906, San Francisco earthquake in the USA, which cost an estimated US$350 million at the time, equivalent to US$6.862 billion in today's terms.

Vince, of Pittsburgh, Pennsylvania, was born with achondroplasia, a type of dwarfism that affects bone growth. But he is showing it's not the size that counts when saving lives.

Far from holding him back, Vince claims his height and hard work down the gym make him perfect for tough jobs.

Tough Vince, who works part-time in an electronics store and is studying to become a nurse, can bench-press over three times his own 6-stone 3lb weight, lifting a whopping 19stone (265lb) at his local gym.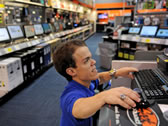 Photo: He works in an electronics shop and hopes to pass an exam that would allow him to enter building buildings. (enlarge photo)

His strength - and his determination to never let his size stop him from doing anything - means he is powerful enough to wield the fire hose and go on rescue jobs.

'I work out a lot, as much as I can down at my gym,' Mr Brasco said.

'It really helps on the job. You need to be strong.
'Because I can lift so much I'm handy at salvage jobs where we have to move heavy bits of metal debris, like after car accidents.

'And it means I can be part of the line of men using a hose. If you aren't strong enough, it would fly out of control.'

'I'll never let having achondroplasia stop me from doing anything,' said Mr Brasco, from Pittsburgh, Pennsylvania.

"He has a unique determination," his fire chief, George Reese said. "He's determined. I think if he wants to do something, he puts his mind to it."

Related world records:
Smallest Wingwalker: Kiran Shah

Shortest woman: Jyoti Amge (Video)

Shortest woman: Bridgette Jordan (Video)

Shortest Man: Junrey Balawing s (Video)

Smallest woman - Hatice Kocaman
Smallest Baby Boy - 'Tom Thumb'
Smallest Man - Wu Kang
Smallest mother - Stacey Herald
Smallest waist - Cathie Jung

Tallest policeman: PC Anthony Wallyn

Tallest Living Married Couple: Laurie and Wayne Hallquist

Tallest Living Man in America: Igor Vovkovinskiy

Tallest town crier: Martin Wood

Tallest teenager: Brenden Adams

Tallest Bikini Model: Amazon Eve

Tallest Man: Leonid Stadnyk

Tallest (healthy) person in the world: Ukrainian Leonid Stadnik

Wednesday, December 21, 2011