Tuesday, June 7, 2011

Most living generations: Gladys Sweeting's family sets world record

NEWPORT, Gwent, UK -- Baby Harry Law has started a sixth living generation of his family; Harry's great-great-great nan Gladys Sweeting, 91, is mum to great-great nan Pamela Jackson, 74, who is mum to great nan Wendy Mumford, 54. Wendy's daughter, Lisa Rogers, is a nan at the tender age of 36 and her daughter, Jessica Law, 19, is baby Harry's mum. They set the new world record for Most living generations.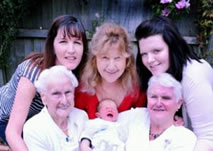 Photo: Gladys Sweeting with the family's newest addition her great-great-great grandson Harry. (enlarge photo)

The Guinness world record for the most generations alive ever in a single famiy has been seven.

Guinness World Records also recognized the world record for the most living figures in a nativity scene: 567, achieved by the National Union of Pro Loco of Italy, UNPLI (Italy).

Great grandma Wendy said last night: "We feel so lucky to be six generations of one family. People are stunned when we tell them about Harry's family tree."

The family live within two miles of each other in Newport, Gwent.

"We feel so lucky to be six generations of one family. People are stunned when we tell them about Harry's family tree," said great nan Wendy.

Harry's birth has also proven the amazing social changes since the 1930's, when Gladys (aka the great-great-great nan) first gave birth.

"When I went into labour with my first child, my husband ran down the road to get the midwife. He then went to work leaving me to have the baby. In those days dads weren't encouraged to be there," said Gladys.

Gladys' husband, William, broke the news of their children's arrivals by knocking on neighbours' doors. Jessica and her husband, Mark, 27, text their family and announced Harry's birth on Facebook within minutes.

Related world records:
Most powerful 'Magnet Boy': Ivan Stoiljkovic (Video)

Loudest duet: Tracy Hart and Claire Gibbons

Longest colour sequence memorised: Nishant Kasibhatla (Video)

Hairiest Girl: Thai girl Supatra Sasuphan

Most fingers and toes: Lei Yadi Min

Most kidney stones removed from a patient: Dr. Ashish Rawandale

Heaviest cancerous kidney ever removed: Eugene Tyner

Widest mouth: Francisco Domingo Joaquim

Most Tattooed Woman: Julia Gnuse
Most kidney stones produced and passed: Don Winfield
Youngest Living Mother: Chinese schoolgir
Most Fingers and Toes: Haramb Ashok Kumthekar
Most prolific surrogate mother: Carole Horlock
Fastest talking female: Fran Capo
Strongest Ear: Lasha Pataraia

Tuesday, June 7, 2011