Tuesday, June 14, 2011

Most children conceived through egg donation: Faith Haugh sets world record

MELBOURNE, Australia -- Altona office worker Faith Haugh, 41, who lives in Melbourne, has donated her own eggs to help create 19 children for couples struggling with infertility , setting the world record for the Most children conceived through egg donation.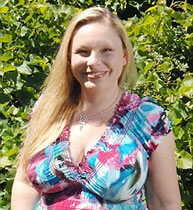 Photo: Faith Haugh claims she doesn't have a maternal bone in her body - yet she has helped to create 19 children after donating the most eggs in the world. (enlarge photo)

The last world record of egg donations from a single donor? Reportedly just 11.

The Guinness world record for the Most children surviving from a single birth was set by Nadya Suleman (USA) gave birth to six boys and two girls at the Kaiser Permanente Medical Center, Bellflower, California, USA.

Guinness World Records also recognized The oldest mother: Maria del Carmen Bousada Lara (Spain, b. 5 January 1940), who gave birth by caesarean section to twin boys, Christian and Pau, aged 66 years 358 days at the Sant Pau hospital, Barcelona, Spain.

She actually has been through the process 41 times during 41 different 'donor cycles' where she given hormones to boost her eggs production.

"I may sound a little distant but as I'm not the one desperate to become a mother, I don't get emotionally invested." She continued saying, "I just tell myself that the eggs that would usually go to waste each month now goes on to hopefully helping a couple achieve the dream of parenthood."

She also keeps in touch with the proud new parents and has given permission for the children to meet her when they reach 18.

And while there are side effects, some uncomfortable and some even life threatening, she claims she hasn't had any ill effects from the process.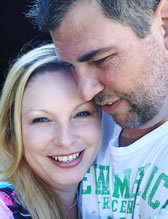 Photo: Happy couple: Faith's husband, Glenn, also donates his sperm to help couples have babies.
(enlarge photo)

Faith, who is married to Glenn, a butcher, has a daughter, Ashlyn, 22, from a previous relationship and is a grandmother to two-year-old Charlotte.
Glenn, 46, also donates his sperm and is the biological father of four children.

Faith began to donate eggs about 17 years ago after seeing an ad in the paper. A couple who were looking for a donor acquired her eggs and it resulted in twins. She went on to donate to numerous couples with the baby count reaching 19.

She wasn't paid, except for out of pocket expenses since it is illegal to pay for a woman's eggs in Australia.

Women needing egg donations typically seek help because they don't want to pass on genetic conditions, have had no luck in previous IVF cycles or were born without eggs or ovaries.

Ms Haugh has regular contact with five of her donor families - receiving invitations to dinner, email updates and photos from the first day of school - but she said it was easy to keep herself at arm's length.

FAITH'S FAMILY:
# HER 42 donor cycles have helped conceive 19 children from 10 Australian families, aged between two and 17.
# FOUR of the donations have been anonymous, including twin girls.
# SHE has regular contact with half her donor-child families but until they turn 18 the children know of her only as a family friend.
# THREE families attended her wedding three years ago, with recipient families meeting each other for the first time.
# SHE asks for recipient families to call her on the day of the birth. She also gets dinner invitations, letters, photos on the first day of school, birthday cards and text messages on Mother's Day.
# RECIPIENT families are encouraged to inform their children they are donor-conceived before they turn 18 so they can access details about the donor.

After reaching the 10-family donation cap in Australia, she travelled to India last year to donate to an infertile couple in Mumbai and said other couples were in "thinking mode" about whether to accept her offer of helping them overseas.

No longer donating her eggs in Australia, Ms Haugh has launched a new website this week called Egg Donation Australia to educate about donation and fertility options.

Ms Haugh is so dedicated to her cause of assisting childless couples she is now prepared to travel overseas to allow her eggs to be used by infertile couples.

"Some people will say that's quite egotistical of you, but I don't look at it as a feather in my cap or a reflection on the kind of person I am," Ms Haugh said.

"I think about the people who have these problems and it's emotionally crippling. "They'd give their soul just to become parents, so why wouldn't you help? "I never set out to set a record."

Related world records:
Most prolific surrogate mother: Carole Horlock

Oldest Father: 94-years-old Ramjit Raghav

Oldest Living Twins: Ena Pugh and Lily Millward

Oldest Living Twins: Raymonde Saumade and Lucienne Grare

Most living generations: Gladys Sweeting's family

Most powerful 'Magnet Boy': Ivan Stoiljkovic (Video)

Loudest duet: Tracy Hart and Claire Gibbons

Longest colour sequence memorised: Nishant Kasibhatla (Video)

Hairiest Girl: Thai girl Supatra Sasuphan

Most fingers and toes: Lei Yadi Min

Most kidney stones removed from a patient: Dr. Ashish Rawandale

Oldest Dad: Nanu Ram Jogi

Oldest living male conjoined twins: Donnie and Ronnie Galyon

Oldest Living Man: Henry Allingham

Oldest Woman: Maria Olivia da Silva

Tuesday, June 14, 2011