Sunday, August 30, 2015

Longest penis: Roberto Esquivel Cabrera sets world record (VIDEO)

SALTILLO, Mexico -- Roberto Esquivel Cabrera, 52, boasts an appendage measuring 18.9 inches long; his manhood is so long that it hangs well below his knee, setting the new world record for the Longest penis, according to the World Record Academy.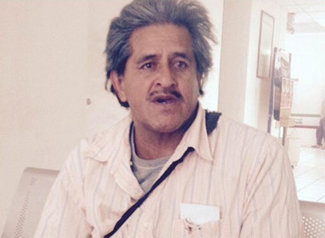 Photo: Roberto Esquivel Cabrera, 52, boasts an appendage measuring 18.9 inches long. Photo: CEN (enlarge photo)

The Guinness World Records' record for the largest organ in the human body, the adult liver can weigh between 1.2 - 1.5 kg (2.64 - 3.3 lb) - about one thirty-sixth of the total body weight. Located behind the lower ribs and below the diaphragm, it performs over 100 separate bodily functions and can measure up to 22 cm (8.6 in) long and 10 cm (3.9 in) wide. The liver is also the largest gland in the body.

Guinness World Records also recognized the world record for the Largest muscle, set by the gluteus maximus or buttock muscle, which extends the thigh. However, in pregnancy the uterus or womb can increase from about 30 g (1 oz) to over 1 kg (2.2 lb) in weight.

His penis is reportedly 48.2 centimeters (nearly 19 inches) long and the tip's circumference is 25 centimeters (nearly 10 inches).

Cabrera said he wanted at least to be recognized by Guinness World Records, but an official told the UK's Daily Star that the organization has no such category.

But he bizarrely wants to be registered as DISABLED because he says his giant willy gets in the way and he is not able to hold down a proper job.

World Record Academy has unlimited categories and recognized the record.

Cabrera, who is from Saltillo, in the north-eastern Mexican state of Coahuila, underwent a medical examination and had an X-ray done of his massive todger to satisfy anyone who doubted him.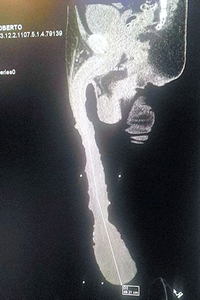 Photo: An X-ray of Roberto's member. Roberto Esquivel Cabrera, 52, boasts an appendage measuring 18.9 inches long.
Photo: CEN
(enlarge photo)

And the world's smallest man ever documented, Chandra Bahadur Dangi, is only two-and-a-half inches taller than his unfortunate member.

Cabrera, who does not have a girlfriend because they are too frightened to have sex with him, has approached health services to support his claim he is disabled.

He said: "Look where it is, it goes far below the knees. I cannot do anything, I cannot work, and I am a disabled so I want authorities to declare me as a disabled person and give me support. Then, I want to go to the Guinness to get recognition."

Cabrera had a medical examination and an X-ray of his phallus to prove his claims. Doctors at a medical institution in Saltillo, in the north-eastern Mexican state of Coahuila, have confirmed that "according to the scan" in 3D, it is genuine, according to a Mirror report.

Medical experts suggest troubled Cabrera might be able to opt for a voluntary modification of his anatomy and have a shaft reduction operation.

He was deported from the USA to Saltillo in 2011 and lives alone in a room given to him by his brothers. He survives on social assistance and scavenges for food and materials on waste dumps. He has no friends and wherever he goes he says people shun him.

Prior to his claim to having the longest penis in the world it is believed the honour belonged to an American man called Johan Falcon whose manhood measures a strapping 13.38 inches.

Cabrera's story and struggle for help is to be published in a book called El Sordido Pudor, translated as Sordid Shyness.

Related world records:
Largest hips: Mikel Ruffinelli sets world record (VIDEO)

Heaviest Baby Born: Baby Chun Chun sets world record (HD Video)

Largest scrotum: Wesley Warren Jr. sets world record (Video)

Largest feet: Brahim Takioullah

Largest tonsils: Justin Werner

Largest feet: Peter Iroga (Video)

Fattest girl: Suman Khatun (HD Video)

Fattest contortionist: Matt Alaeddine sets world record (Video)


Largest mattress: Dolidol Maroc


Most people making heart-shaped hand gestures: Carrefour Belgium