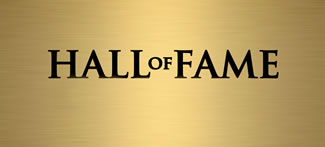 WORLD RECORDS HALL OF FAME | World Record Academy

Honoring the world's gratest record breakers.

The World Record Academy's Hall of Fame is committed to preserving the history of World's pastime and celebrating the legendary players, managers, umpires and executives who have made the world records a fan favorite for more than a decade.

The World Record Academy Hall of Fame recognizes extraordinary achievements by record holders around the world.

The first class, honoring 100 of the record breaker's luminaries, was selected during 2017 (after 10 years of activity and over 4,500 new records published) and will be announced during 2018.

World Record Academy Hall of Fame has celebrated over 100 individuals and groups who have achieved international acclaim and recognizes the outstanding accomplishments of selected record breakers.

Help the memories live on and celebrate the record breakers you love!


The Official 2018 Inductees.
Congratulations to our newest Inductees and to the fans who've supported their inclusion into the Hall of Fame.



Largest mattress: Dolidol Maroc


Longest playable stringed musical instrument: CapitaLand Singapore


Most People Waving Hands Simultaneously: AG Insurance