Largest jigsaw puzzle commercially available-world record set by Educa

BARCELONA, Spain -- Educa, the leader in puzzles for all ages, created a 24,000 pieces, 428 x 157 cm puzzle called Vida (Life)-setting the world record for the Largest jigsaw puzzle commercially available.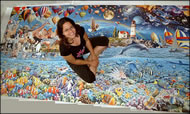 Photo: Annick from Namur, Belgium was the first who assembled the Largest jigsaw puzzle: "I took 8 days for the first part, 7 for the second, 8 for the third and 6 for the last one ... I did more on week-ends because I continued to work ... I puzzled more or less from 5pm until 11 or 12pm (sometime until 2am!) - enlarge photo
My favorite part was the animals. It was easy to do the sail and the balloon. The most difficult was the sea between the boat and The lost city!!!). I want to do it mixed next time, but with friends because there are so many blue pieces!"

"Life - The Great Challenge" was created especially for this puzzle by Royce B. McClure. Born in Tokoroa, New Zealand in 1956, Royce has had well over a hundred jigsaw puzzles previously published.

Drawing on the experienced gained from years of designing puzzles, the artist has made sure that the challenge of doing this great puzzle is matched by the pleasure of doing it.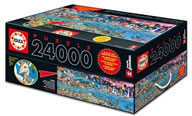 Like life itself, this puzzle is full of variety, color, activity, beauty, drama and above all - Life.

(enlarge photo)

A lot of the intricate detail won´t be seen until the pieces are put together, rewarding the puzzlers with surprises as they work to complete this challenge.

Up to now, the brand's biggest puzzle had consisted of 18,000 puzzles.

The artwork used in creating "Life" came from many earlier paintings by the artist. These were mainly airbrush works painted between 1990 and 2006. Elements from the paintings were taken out and then recomposed into this one bold statement – "Life".

The various paintings that were used to create Life can be seen along with other information about this puzzle at www.worldslargestpuzzle.com



Related world records:
Largest jigsaw puzzle-world record set by Ravensburg

Largest crossword-world record set by Lvov

Fastest time for solving the Rubik's Cube-world record set by Erik Akkersdijk

Largest miniature railroad-world record set by Miniatur Wunderland

Longest toy train track-world record set by Thomas the Tank Engine

Fastest puzzle completed by Elaine Lewis set world record

Saturday, March 28, 2009