Monday, March 26, 2012

First Lego Shuttle Sent into Space: Raul Oaida sets world record (Video)

Lauda-Königshofen, Germany--Romanian space fan Raul Oaida, 18, paid tribute to the space shuttle era by sending a shuttle of his own —one made from Lego toy bricks— to an altitude of about 35,000 meters (114,800 feet) - almost to the edge of space!) , setting the world record for the First Lego Shuttle Sent into Space, according to World Record Academy: www.worldrecordacademy.com/.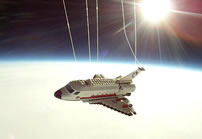 (enlarge photo)

The Guinness world record for the largest collection of complete LEGO sets in a private collection is 1,091 and belongs to Kyle Ugone (USA) in Yuma, Arizona, USA.

Guinness World Records also recognized the world record for the tallest structure built with interlocking plastic bricks (Lego): 30.52 m (100 ft, 1 in) high, constructed by the Stichting Limmen Ludiek (Netherlands) foundation on in Limmen, Netherlands.

Raul Oaida rigged the tiny ship and a parachute to a large helium balloon together with a GPS system and a video to record the flight.
The 18-year-old took just three days to construct it, gluing the blocks together to withstand the 200kph (320mph) winds in the Earth's stratosphere.

Australian businessman Steve Sammartino financed the £1,600 project after convincing the teenager to scale down his original plans.

'This was one of the things I could afford to do – the only space program I could afford,' said Mr Oaida, from Deva, Romania.

'It took a bit less than a month to build – and most of that was waiting to get things delivered from the post office,' he said.

"I wish to thank Steve Sammartino for the opportunity to do this project and the german airtraffic control for the understanding."

Oaida also used a GoPro Hero video camera, and a Spot GPS device.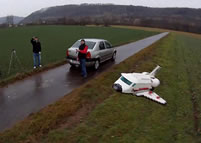 (enlarge photo)

The pair travelled to Germany, the only place they were able to get permission for take-off on December 31.

An article on tech site CNET said Oaida could not launch the toy shuttle from his home country as he had no clearance to launch. Luckily for him, German air traffic control authorities "opened their hearts--and skies--to the endeavor."

The mini shuttle was launched from Germany and spent three hours withstanding 320mph winds on the edge of space before landing in a field 155 miles away from the launch site without a scratch.

The 18-year-old Romanian also attached a parachute to the vessel along with a GPS navigation system and an on-board camera to record the flight.

"It looked so good on the video in space — I couldn't believe it. We waited in the field for half an hour as it took off. Then we headed in the direction it was drifting so that we could pick it up."

The teen enlisted the assistance of Melbourne venture capitalist Steven Sammartino, 38, on the project after the pair met on a social networking site.

"Raul kept asking me more and more questions every day on Skype and I started to get really inspired by him because he was this really, pushy, curious guy who just wouldn't give in," he said.

It was Steve who first suggested the use of Lego "because it's just cool", but the pair were worried the toy pieces might not stay together in the harsh conditions of outer space.
To help the tiny toy on its epic journey Raul used superglue to stick together the 180 white blocks that make up the vessel.

Raul, of Deva, Romania, said: "We were worried that it might not be strong enough to stay together in the 320mph winds in outer space — so I stuck the pieces together with superglue.

"We were so excited during the launch. It was just a muddy field so there was nothing glamorous about it like at NASA — but we still shouted, 'Blast off!'

"I thought it would work because I had put a lot of time into making sure everything was set up correctly.

"I'd done everything that was needed and it was just down to the Lego Shuttle to stay together."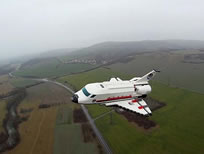 (enlarge photo)

The video footage shows the Lego model climbing through clouds and eventually soaring high above the Earth with ice particles forming across the toy.

Project partner Mr Sammartino said he hopes the launch will help stop preconceptions that mega bucks are needed to fund space projects.

He said: "I think we're in an age now where we can do cool things just because they're cool, that need no financial reasons.

"Technology has democratised so many things, power is being decentralised so that people with good ideas but are countries apart can find each other and do cool stuff and challenge what the world can look like five to ten years from now."

The pair has teamed up again for another secret "mini project" being crowd-funded on Twitter.

Related world records:
Longest flight by a paper-only plane-Takuo Toda sets world record

Most supernova spotted by a single person-Tom Boles sets world record

Largest mass ascent-Lorraine Mondial Air Ballons rally sets world record

Largest Origami Giraffe-world record set by Himanshu Agrawal

Tallest roller coaster model-world record set by Branden Moyer

Fastest time for solving the Rubik's Cube-world record set by Erik Akkersdijk

Fastest puzzle completed by Elaine Lewis set world record

Tuesday, March 27, 2012 6:35 AM