Fastest puzzle completed by Elaine Lewis set world record

[June 13] STOCKPORT, UK--Elaine Lewis completed a 250-piece jigsaw in an astonishing 14 minutes, 58 seconds - more than halving the existing record - at a nervewracking time-trial in the Stockport Express offices.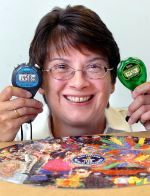 With official witnesses Councillor Pam King and Express editor Mandy Leigh looking on, Elaine was a whirlwind of puzzle power as she fitted together an oval picture of famous Guinness world record breakers.

She smashed the previous record of 34 mins - proving dedication really is all you need. Elaine said: "Iím really pleased with the time. I could have done it again in that time and still beaten the record! "I have always had puzzles but I also love a challenge, and found I was getting faster at doing this one. It is a little harder because it doesn't have traditionally-shaped pieces as it is oval." She added: "My optician probably wouldnít like me doing them that much - and certainly not my osteopath!" Elaine undertook the challenge to raise awareness of her sonís rare chromosome disorder, Williams Syndrome. Anthony, 13, was diagnosed when he was three, and suffers from learning difficulties.

Elaine has raised more than £300 in sponsorship from doing the challenge, which will be used to fund two static caravans near Blackpool for sufferers and their families to take a break.