Biggest Giant Grouper-world record set by Nelson Shayne

[Jan 4]Latham Island,Tanzania--One of The Pemba Channel Fishing Club's Bertram's "Shuwari", while fishing out of Latham Island hooked up and boated a Giant Grouper weighing 179.5 kg. This is a new world record for the biggest Giant Grouper.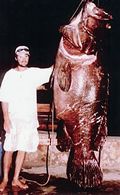 Nelson Shayne and a couple of friends chartered "Shuwari" for a trip to Latham Island, Dar es Salaam. Shuwari, skippered by Madelena Martinengo, assisted by Mohamed Baraza, Jason Alexio and Cosmus made the long haul to the island in the early hours of the morning.

Fishing at Latham had been slow for the last few weeks so it was decided to live bait for Giant Trevally, Dog Tooth Tuna and whatever else might be lurking in the nearby waters.

A couple of rainbow runner were rigged live and trawled along the drop-offs near the island in less than 60 meters of water. It was not long before the live bait on the down rigger was taken and battle commenced.

A battle lasting about 30 minutes, on 60 kg line, and a Giant Grouper of 179.5 kg was the surprise of the day. Nobody on board suspected it would be a Giant Grouper as Giant Trevally were being caught in the main, with the odd shark and other reef fish.

The battle with the fish was short and sweet, however getting the creature on board proved to be a more difficult task. Without a transom door it was difficult. Eventually with ropes attached to the flying bridge ladder and 7 able bodied people the fish was finally lifted on board.
[ Submit a world record ] [ World Record Certificate]
[ Book of World Records ] [ World Records Store ] [ Club ]



Fastest Jump Shooter in Billiards-Rocky Lane


Largest miniature railroad-Miniatur Wunderland


Fastest race around the 'World'-Rohan Veal

Most 10 scores at Olympics-Nadia Comaneci

Fastest board breaking-record set by Mitch Ellis