Saturday, February 18, 2012

Most in-game marriages in 24 hours: Rift sets world record (Video)

REDWOOD SHORES, CA, USA--Trion Worlds, the leading publisher and developer of premium games for the connected era, announced that 21,879 marriages players of the massively multiplayer online role-playing game (MMORPG), Rift™, set the world record for the most in-game marriages in a 24-hour period, World Record Academy (www.worldrecordacademy.com) reports.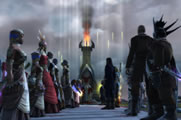 Photo: Valentine's Screens. All Photos courtesy of Trion Worlds
(enlarge photo)

The Guinness world record for the richest person to appear in and endorse a videogame was set by the US billionaire Donald Trump, whose net worth is estimated at $2bn ($1.2bn) and appeared in Donald Trump Real Estate Tycoon.

Guinness World Records also recognized the world record for the longest running action-adventure series, set by The Legend of Zelda, with 17 official Zelda games released between 1986 to the latest release in 2007, Phantom Hourglass.

"Establishing this record was a monumental achievement for our development team and community of passionate players, and I couldn't be more proud," said Scott Hartsman, Executive Producer on Rift and Trion's CCO.

"Ascended Weddings were a great way to lift the veil on Rift's new 'Gatherings' feature, social experiences that bring players together in new and interesting ways. We look forward to expanding this great new gameplay element in the always-evolving world of Telara."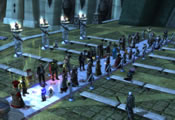 (enlarge photo)

Rift introduced the in-game marriage feature with its latest content release, "Carnival of the Ascended," the seventh major update introduced by Trion since Rift launched in March 2011.

Rift has seen more than one million activations since launch, and Trion has revealed that the title broke 100 million dollars in revenue in under a year.

Also launched with the Carnival of the Ascended update was Rift Lite, which enables anyone with a Trion account to access Rift with no time or cost restrictions up to level 20.

About Rift

Adventure in the world of Telara as either a noble Guardian or technomagical Defiant and enter a dynamic fantasy where 8 primal forces battle for control in an ever-changing landscape. Build your own class using the Ascended Soul system, embark on epic conflicts that bring you into the story, battle others in exhilarating Player vs. Player combat, achieve new heights of power by tackling epic raids, and so much more.

Related world records:
Oldest Nintendo player: 100-year-old Kathleen Connell sets world record (Video)

Largest Videogame Controller: British team sets world record

Largest Working NES Controller: Dutch students sets world record (Video)

Longest video game marathon on a FPS: Irish gamers (Video)

Youngest Gamer to Achieve a Perfect Score on Dance Dance Revolution: Ryota Wada

Most hugs by a mascot character: Super Mario Galaxy 2

First to Throw a Perfect Game in MLB 2K10: Wade McGilberry

Longest time spent playing a video game: David Scherer

Longest LAN Party: CyberFusion 2009

Longest continuous play of a single FPS: The Frag Dolls

Saturday, February 18, 2012 5:15 PM