Friday, February 4, 2011
Most halfcourt shots made in one minute: Charlie Vernon sets world record (Video)
PULLMAN, Wash., USA -- Washington State University senior Charlie Vernon scored nine basketball half-court shots per minute - setting the new world record for the Most halfcourt shots made in one minute.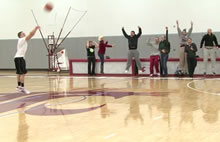 Photo: WSU student Charlie Vernon breaking the Guinness world record - again.
(enlarge photo)

The previous Guinness world record was set by Charlie Vernon with seven baskets, but was unseated in late January by Eric Valentin, a University of Wisconsin – Green Bay basketball player, who made eight baskets.

Guinness World Records also recognized the Longest distance dribbling a basketball in 24 hours:177.5km (110.29 miles) by Suresh Joachim (Australia) at Elmbank Community Centre, Toronto, Ontario, Canada.

So, determined to regain his title, Vernon, a manager with the WSU women's basketball team, took to the hardwood.

After a few rounds of practice shots, a small crowd of friends and women's basketball players cheered him on.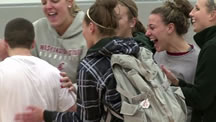 Photo: Friends and members of WSU's women's basketball team congratulated Vernon for breaking the Guinness world record - again. Photo: WSU News Service (enlarge photo)

It took 10 tries, but the tenth round of shooting landed Vernon back on top. He said he tried to clear his mind of everything to focus on one thing.

"Just hopefully it goes in, once I hit about five or six, then I know I have a real chance of beating it, so really, just a lot of things are going through my head actually," said Vernon.

Subscribe to our free RSS News feed to receive updates.

Related world records:
Most halfcourt shots made in one minute: Eric Valentin
Largest game of knockout: George Washington University
Largest 3-on-3 basketball tournament: Spokane Hoopfest
Best 10-Year-Old Basketball Player: Jaylin Fleming
Longest basketball game: Sibiu players

Friday, February 4, 2011