Thursday, July 19, 2012

Most golf holes played in five days: Captain Stuart Ball breaks world record (PICS & VIDEO)

LONDON, UK -- British Army Captain Stuart Ball, of the Royal Logistic Corps based at RAF Odiham in Hampshire, in a bid to raise money for the Scotty's Little Soldiers, played 432 holes in just five days - setting the new world record for the most golf holes played on foot in five days, according to the World Record Academy: www.worldrecordacademy.com/.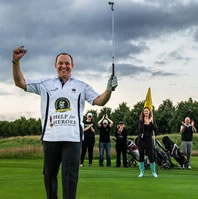 Photo: By playing 24 rounds of golf - the equivalent of six Open Championships - in a single working week, Capt. Ball walked over 150 miles, hitting his trusty TaylorMade Burner 2.0 6-iron well over 1,000 times. He beat his original target - 360 holes - by a full 72 holes. (enlarge photo)

During the period of five days, he walked over 150 miles and probably shot over a thousand golf balls to help raise money for the charity.

The Guinness world record for the most holes of golf played in seven days (cart) was 2,000 by Geno Bonnalie (USA) at Lewiston Country Club in Lewiston, Idaho, USA.

Guinness World Records also recognized the world record for the most holes of golf played in 12 hours by a walking golfer: 221, by Scott Holland (Canada) at Fairmont Banff Springs Golf Course, Banff, Alberta, Canada.

On his way to complete 432 holes he broke his previous world record by 72 holes.

Crown Golf backed the venture by offering its golf facilities free of charge, and by supplying golf equipment and refreshments for Capt. Ball and his support team throughout the week.

The world record attempt took place between the 2nd and the 6th of July 2012 on five different Crown Golf courses with Capt Ball travelling between clubs in a 2012 Swift Lifestyle 624 Motorhome, lent to him for the week by Marquis.

Other assistance came from SkyCaddie, who lent two wireless SGXW units to ensure Capt. Ball wasted no time finding a correct yardage; Sunwise British Eyewear, who supplied Capt Ball with a pair of Windrush White golf sunglasses; and from Bridge Golf Scotland, who supplied a bespoke golf bag.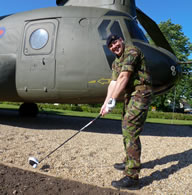 Photo: Captain Stuart Ball pictured in front of a Chinook helicopter at RAF Odiham.
(enlarge photo)

During the last round, many other high ranked military officials played alongside Stuart.

Major General Andrew Gregory Late RA, President of the Army Golf Association, played 18 holes at dawn with Captain Ball on the final day.

He said: "In playing 432 holes of golf in only 5 days - over 86 holes a day - Stuart's physical achievement is incredible in itself."

"But more important are both the monies he has raised for two extremely important and inspirational charities and also the greater awareness he has brought to the wonderful activities being undertaken particularly by 'Scotty's Little Soldiers'. Those are really fine legacies for his blisters and aching joints. Very many congratulations, Stuart; you have much to be proud of."

Related world records:
Military world records

Most Golf Holes Played in A Week: Pastor Bob Kurtz sets world record (HD Video)

Most rounds of golf played in a year: Richard Lewis

Youngest person to win a Japanese Golf male tournament - Ryo Ishikawa

Most Golf Balls Hit in 12 Hours - Nigel Mangan

Largest golf tee: Bay College CAD team

Most golf holes played in a week - Tom Bucci

Oldest Golf Course: Musselburgh Links

Youngest Golfer to Score a Hole-in-One: Eleanor Gamble

Most Birdies in 12 Hours: Alexander Sandeman

Thursday, July 19, 2012 11:04 AM