Thursday, May 19, 2011

Largest Working NES Controller: Dutch students sets world record (Video)

AMSTERDAM, Holland -- Students at TU Delft Student Association unveiled a giant working Nintendo Entertainment System controller, measuring nearly 12 feet by 5 feet (3.6 meters by 1.6 meters) - some 30 times bigger than the console's actual game pad , setting the world record for the Largest working NES Controller.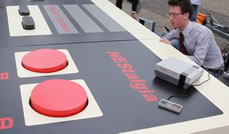 Photo: The World's Largest computer game controller. (enlarge photo)

The Guinness world record for the largest computer game joypad (controller) measures 2.43 m x 1.01 m x 0.22 m (8.0 ft x 3 ft 4 in x 9 in), and weighs around 68 kg (150 lb). It is a fully-functional scaled-up replica of an original Nintendo Entertainment System (NES) joypad and it was built by a team led by David Randolph and David Ledger (both USA).

Guinness World Records also recognized the largest collection of playable video gaming systems; it belongs to Richard Lecce (US), and numbers 483 unique items, including home consoles, portable games and LCD mini-systems.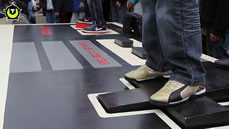 Photo: The World's Largest Working NES Controller is so big, the only way to manipulate the D-pad or buttons is to stand on them. (enlarge photo)

Built by electrical engineering students at TU Delft, the controller is nearly 12 feet by 5 feet (3.6 meters by 1.6 meters).

They wheeled it out and assembled it at the Markt in Delft, where it was hooked to a standard NES and connected to a giant display.

Video:
The World's Largest Nintendo Controller

Kids had fun playing Super Mario Bros. and Tetris during a demonstration.

Related world records:
Longest video game marathon on a FPS: Irish gamers (Video)

Youngest Gamer to Achieve a Perfect Score on Dance Dance Revolution: Ryota Wada

Most hugs by a mascot character: Super Mario Galaxy 2

First to Throw a Perfect Game in MLB 2K10: Wade McGilberry

Longest time spent playing a video game: David Scherer

Longest LAN Party: CyberFusion 2009

Longest continuous play of a single FPS: The Frag Dolls

Thursday, May 19, 2011