Tuesday, May 11, 2010

First to Throw a Perfect Game in MLB 2K10 - world record set by Wade McGilberry

SEMMES, Ala., USA -- Wade McGilberry, 24, threw the first and only documented perfect game on the Take-Two Interactive Software Inc.'s MLB2K10 video game - winning a $US1.1 million and setting the world record for the first person to throw a verified perfect game in Major League Baseball 2K10.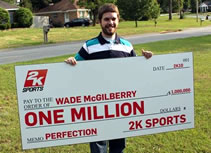 (enlarge photo)

"It was actually my wife who convinced me to go for it," winner Wade McGilberry said.

"I never thought I'd actually win a million dollars playing a video game, it's all still sinking in for me."

The Major League Baseball 2K10 contest began on March 2 and ended May 1.

Mr McGilberry threw a verified perfect game on the first day of the competition. He wasn't some elite video game baseball performer. This was the first time he'd ever played MLB2K10.

McGilberry said that when he bought the game, his wife suggested that he take the day off work so he could get a head start on the competition.

"I thought about it (and) the responsible thing to do was to go to work," he said. When he came home, he set up a video recording, started playing and achieved the perfect game after "five or six attempts."

To ensure accuracy in the verification and submission process, 2K Sports partnered with Twin Galaxies International, the worldwide authority on video game world records, and provider of scores to Guinness World Records.

McGilberry said representatives from the company showed up to his house to check his Xbox 360 and make sure it wasn't modded before finally awarding him the $1 million dollars.

So what does a newly wealthy guy do with a million bucks? Pay off his mortgage and start a family with his wife, Katy.

In baseball, a perfect game is defined as one in which no batsmen from the opposing team make first base. That means no hits, no walk and no getting on base because he is hit by a pitch or for any other reason.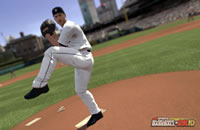 (enlarge photo)

"The game itself was fantastic - I'm glad I bought it either way - but I have to say, this is a nice return on my investment," he said.

"Throwing a perfect game in Major League Baseball 2K10 is anything but easy," vice president of marketing for 2K Sports Jason Argent said.

"We congratulate Wade on his successful pursuit of perfection."

Off the couch, only 18 pitchers have thrown perfect games in the history of Major League Baseball, beginning with Lee Richmond in 1880 and ending with Mark Buehrle in 2009. "We knew it would be difficult but not impossible," Argent said.

To be eligible for the $1.1 million, contestants had to record their video game efforts on camera and submit a copy of their recording in its entirety for verification.

Argent said Take-Two has received a handful of submissions after McGilberry, but they haven't been verified yet. He said the contest helped sales of the game.

McGilberry agreed. "I think it's really good publicity," he said. "I wouldn't have bought the game if not for that."

Subscribe to our FREE RSS News feed to receive updates.

Related world records:
Longest Singles Tennis Match - world record set by Carlo Santelli and Daniel Burns

Highest cricket score in one-day match - Olly Hardaker sets world record

Largest ' Ring a Roses' Game - world record set by Children Today

Largest Twister Board - world record set by the UCD Suas Society

Largest dodgeball game - world record set by the University of Alberta

Tuesday, May 11, 2010