Wednesday, November 21, 2012

Most turkeys fried at the same time: McKinnon's sets world record (PICS)

PORTSMOUTH, NH, USA -- Employees at the local McKinnon's Market & Super Butcher Shop successfully attempted to set the world record for most turkeys fried at the same time; it involved employees simultaneously dipping 20 turkeys into boiling hot peanut oil in the supermarket's parking lot at Southgate Plaza, according to the World Record Academy: www.worldrecordacademy.com/.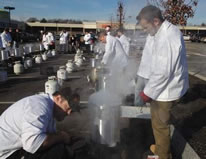 Photo: McKinnon's market employees set a world record for frying the most turkeys at the same time. The meat will be donated to the Cross Roads House homeless shelter. Photo: Rich Beauchesne (enlarge photo)

The Guinness world record for the Most people dressed up as turkeys was set by 661 runners dressed as turkeys.

Guinness World Records states that the largest turkey weighed in at 86 pounds (39.09 kg).

Brothers and McKinnon's co-owners, Carl and Ed Penta, joined employees of the Portsmouth store for the turkey-frying demonstration.

Both said, not only was the event meant for customers to learn how to properly fry a turkey, but the event was also a way of giving back during this Thanksgiving season.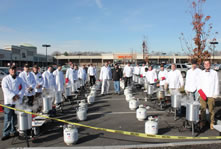 Photo: Store owners Ed and Carl Penta (Center) put on a great demonstration for a great cause. Twenty turkeys were deep fried and later prepared for the Cross Roads shelter for the homeless. (enlarge photo)

"Fried turkey is delicious," said Carl Penta. "We'll be donating all of them to the local homeless shelter."

Once completely fried, the employees will cut up the turkeys and the meat will be donated to Cross Roads House homeless shelter, he said.

Related world records:
Most expensive cheese: Donkey cheese sets world record (VIDEO)

Longest Bratwurst: Prescott grocery store sets world record (VIDEO)

Longest barbeque marathon: Nando Fraser breaks world record

Largest seafood stew: UMass Amherst sets world record

Longest spring roll: Indonesia sets world record (PICS)

Largest Cumberland Sausage: Gary McClure sets world record

Largest lasagna (lasagne): Polish restaurant sets world record (PICS & VIDEO)

Most Expensive Hot Dog: $100 "Dragon Dog" sets world record (HD Video)

Most Tamales Made: Lanier High School set new world record (Video)

Longest Sushi Cucumber Roll: Russia sets world record (Video)

Longest skewer of meat: Japan's Ishigaki Island sets world record

Largest Pork Taco: Mexico

Largest nachos: Ninety Nine Restaurants (HD Video)

Largest shrimp cocktail: Mazatlan

Largest potato gratin: Mount Vernon (Video)

Largest polenta: Fogolar Furlan Windsor (HD Video)

Largest French Fry Feed: Grand Forks (Video)

Largest Sushi Dish: Japanese restaurant sets world record (Video)

Largest slice of cheese: Long Clawson Dairy

Longest bratwurst: Chicago's Berghoff Restaurant (HD Video)

Largest Navajo taco: Gallup residents (HD Video)

Largest stir-fry: UMass Amherst (HD Video)

Longest Line of Tacos: City of Phoenix

Longest barbecued sausage (boerewors): AfriForum Youth

Largest serving of fish and chips: Yorkshire pub (Video)

Largest serving of chips: Britain (Video)

Largest Matzo: Manischewitz (Video)

Longest skewer of kebab: El Paso family

Hottest sausage: The 'Devil's Sausage'

Largest serving of barbecued beef: Argentina (Video)

Longest sausage: Chef Alberto Della Pelle and his team

Largest caprine cheese: Greek farmers

Largest Zampone sausage: Castelnuovo Rangone Chefs

Largest matzo ball: Tucson Jewish Food Festival

Largest Sushi Mosaic: Norway

Largest enchilada: Mexico City

Largest sausage kolache: Kolache Haven

Longest Shish Kebab: Murat Aksu

Largest Bowl of Macaroni And Cheese: Chef John Folse

Longest California Roll: University of Massachusetts

Longest barbeque marathon: Jan Scannell

Largest pot of baked beans: Alabama Butterbean Festival

Largest goat cheese: Castel di Lama

Largest serving of fried chicken: by KFC

Largest Pot of Beans: Macedonian Villagers

Largest serving of fried chicken: Indiana's Canoefest

Longest french fry: John Benbenek

Largest Chicken Fried Steak: Cowtown Diner

Largest Meatball: Glen Oaks Community College

Most Expensive Seafood Hamper: The Fish Society

Most expensive Schnitzel: 'Golden Imperial Schnitzel'

Largest 'Jerusalem mixed grill': Israeli chefs

Largest meatball: Nonni's Italian Eatery

Largest Simultaneous Roast Meal: the East of England Agricultural Society

Longest sausage: Vinkovci

Largest gyros (doner kebab): Sami Eid

Biggest barbecue: Paraguay

Longest Bulz: Turia

Longest beef sosatie: Arcelor Mittal

Largest hot dog: Monterrey chefs

Most number of dishes on display: Kraft Foods

Most fish dinners: Polish heritage Festival

Latest update:
Monday, November 18, 2013 4:33 PM