Most food donated in 24 hours-world record set by Toronto

[April 14] TORONTO, Canada--119,068 kilograms was raised in one day by the Greater Toronto Apartment Association for the Toronto Daily Bread Food Bank, setting the new world record for the Most food donated by a city in 24 hours.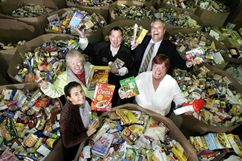 Photo: Food collected during the Spring Hope Food Drive waits to be sorted at the Daily Bread Food Bank's headquarters.From left, Samantha Wilkinson of the Greater Toronto Apartments Association, event organizer Bonnie Hoy, Mississauga's Brad Butt of the GTAA and Christopher Hatch of Foodpath and Gail Nyberg of Daily Bread Food bank were elated with the public response to their appeal. (enlarge photo)

"I've always said that Toronto is the greatest city in the world," Bonnie Hoy, co-ordinator of volunteers for the drive, told the cheering throng of some 100 people at the food bank's warehouse on New Toronto St., near Islington Ave., yesterday evening. "And the city just proved it all over again."

Starting at 6:30 p.m., volunteers canvassed more than 160,000 apartment suites in 1,000 buildings in the Greater Toronto Area asking for donations, said Brad Butt, president of the apartment association.

Fifty trucks worked through the night hauling the food to the west-end warehouse, where each container was weighed, recorded by a panel of independent referees, and then moved to a nearby storage area. The final figures were sent to Guinness, and officials hope the record will be verified in a few days.

"I think the residents who live in those buildings should be very proud of themselves," a happy but exhausted Butt said last night. "It feels great to break the record but more importantly we're battling hunger," he said.

Donations to the project, called the Spring Hope Food Drive, couldn't have come at a better time, said Gail Nyberg, executive director of the food bank. "Hunger doesn't take a summer vacation, but many of our regular donors do," she said. "I'm just so proud of those tenants. It's just an incredible feat. Thank you, Greater Toronto."

The food bank is a non-profit charitable organization dedicated to fighting hunger. Last year, more than 905,000 people in the GTA relied on food banks, 34 per cent of them children.

According to Butt, trucks working through the night picked up food donations from GTAA buildings and delivered them to the Daily Bread's Etobicoke headquarters to be collected and weighed within the 24-hour timeframe. He said the GTAA would ensure that food donated from a particular area of the city, would go to people in need from that same area through food banks such as North York Harvest and Mississauga Foodpath.

The previous record of 100,244 kilograms was set by Regina two years ago.