Largest Ketchup packet created by Heinz set world record
[July 30] Collinsville, Illinois -- The citizens of Collinsville, Illinois have created the worlds largest ketchup packet in an attempt to set a world record and raise money for the Collinsville Christian Academy, which was recently destroyed by fire.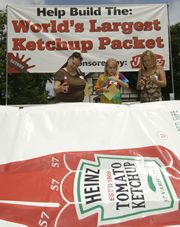 H.J. Heinz Co. sponsored the event by donating 4000 bottles of it's world famous ketchup. The bottles were sold for $1.00 each and purchasers can add the contents of their bottle to the packet.
(click here to enlarge photo)

"That's a lot of ketchup," said Heinz spokeswoman Tracey Parsons.

The 8' X 4' plastic pouch has a 130 gallon capacity.

Hundreds in the city, home to a 52-metre-tall water tower shaped like a condiment bottle and touted as the World's Largest Ketchup Bottle, showed up to participate in the ketchup filling and other fundraising activities.

"This is a great way to be a part of our community," David Amsden, the church's senior pastor, said. "I love it."

There's the historic 170-foot Brook's Catsup Bottle — a disguised water tower — looming over Collinsville on Illinois Route 159. And now, just up the road, there's the world's largest ketchup packet.

Following a short stay in Collinsville, once home to a ketchup factory, the packet will be taken to the Heinz Company headquarters in Pittsburgh.

Parsons said the ketchup won't ever be eaten.

On a website set up for the event (www.worldslargestketchuppacket.com), the church is polling visitors: "What should we do with a 1,000 pound ketchup packet?" The leading vote getter is to call David Letterman and see if they can throw it off the roof of the Ed Sullivan Theater, where his show is taped.

Sources: Heinz, wire agencies