Tuesday, May 15, 2012

Largest Chocolate Sculpture: Qzina Specialty Foods sets world record (PICS)

IRVINE, Calif., USA -- To celebrate their 30th anniversary, Qzina Specialty Foods has broken a Guinness World Record for building the largest chocolate sculpture; the sculpture models an ancient Mayan temple and weighs 18,239 pounds - setting the new world record for the Largest Chocolate Sculpture, according to the World Record Academy: www.worldrecordacademy.com/.


Photo: The World's Largest Chocolate Sculpture is modeled after an ancient Mayan temple and weighs 18239 pounds. (enlarge photo)

The Guinness world record for the largest chocolate sculpture weighed 4,870 kg (10,736.5 lb), measured 1.5 m (4 ft 11 in) in height, 2.5 m (8 ft 2 in) in width and 1.2 m ( 3 ft 11 in) in depth and was created by Mirco Della Vecchia (Italy).

Guinness World Records also recognized the world record for the tallest chocolate sculpture, set by a 10-metre-tall (32 ft 9.7 in) Christmas tree created by Patrick Roger (France) in Sceaux, France. The sculpture weighs 4,000 kg (8,818 lb 7.84 oz) and took a month to create.

Qzina's Corporate Pastry Chef, Francois Mellet, was the lead architect on this massive project and MOF Stephane Treand (Meilleur Ouvrier de France or Best Craftsman in France) lent his artistic touch to the sculpture's intricate design elements.

Mellet, together with his team, spent more than 400 hours constructing this magnificent structure of solid chocolate that was created using an assortment of Qzina's leading chocolate brands.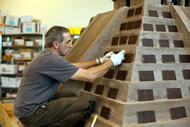 (enlarge photo)

"Breaking a Guinness World Record for building the largest chocolate sculpture will be Qzina's greatest masterpiece yet," said Richard Foley, founder and CEO of Qzina.

"We studied Mayan pyramids at great lengths to create an exact replica of the Temple of Kukulkan at Chichen Itza to honor the original chocolatiers. It was important for us to create something memorable in celebration of our 30th anniversary and the grand opening of the Qzina Institute of Chocolate & Pastry."

The chocolate pyramid will be displayed at the Qzina Institute of Chocolate & Pastry, located in Irvine, California, and will be available to view beginning June 4, 2012 when the institute and product showroom is officially open to the public (Monday - Friday, 10:00 a.m. - 5:00 p.m.).

Qzina plans to destroy the chocolate sculpture on December 21, 2012 when the Mayan calendar comes to an end. The method for destruction is yet to be determined.

Related world records:
Longest ice cream sundae: Lake Forest sets world record (PICS & VIDEO)

Longest rice cake: Bauang residents sets world record (PICS)

Longest ice cream sundae: Napoleon High School set world record (PICS)

Longest Ice Cream Dessert: Webster University set world record (PICS & VIDEO)

First chocolate printer: The Choc Edge printer sets world record (PICS & HD Video)

Most Expensive Chocolate Egg: William Curley sets world record

Largest chocolate coin: Carphone Warehouse

Most expensive chocolate pudding: Chef Marc Guibert

Largest chocolate bar: Thorntons breaks Guinness world record (Video)

Largest Chocolate Bar: 12,000-pound chocolate bar (Video)

Largest Chocolate Bar Billboard: Meiji Seika Kaisha Ltd.

Tallest Chocolate Christmas Tree : Patrick Roger

Largest chocolate bar - Grand Candy factory

Largest chocolate coin - Science World sets world record

Largest chocolate sculpture - Mirco Della Vecchia

Largest chocolate bunny - Harry Johnson for Duracell

Largest slab of chocolate fudge - Lansing Community College

Biggest chocolate eclair - The Swallow Bakery

Biggest Chocolate Crepe Cake - Gus Kazakos

Biggest chocolate castle - Krunoslav Budiselic

Largest box of chocolates - Thorntons Moments

Largest Artichoke Display: Ocean Mist Farms and Rouses Supermarkets set world record (PICS)

Largest canned food structure: Can combine sets world record (HD Videos)

Largest Can Pyramid: Worlds of Fun (HD Video)

Largest cheese sculpture: Cheez-It

Tallest Cookie Tower: Girl Scouts

Largest monument to the onion: Pericei

Largest Canned Food Structure: Wellington

Tuesday, May 15, 2012 11:30 AM