Friday, May 10, 2013

Largest can pyramid: Cranford teens break Guinness world record (VIDEO)

CRANFORD, NJ, USA -- after months of collections, the township Teen Advisory Board assembled more than 28,000 cans of food into a pyramid, breaking the Guinness World Record by more than 8,000 cans; all of it will go to the Community Food Bank of New Jersey in Hillside to aide people less fortunate, after setting the new world record for the Largest can pyramid, according to the World Record Academy: www.worldrecordacademy.com/.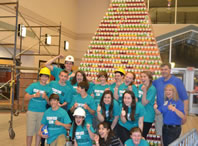 Photo: Members of the Cranford Teen Advisory Board have built a pyramid of over 25,000 cans. (enlarge photo)

The Guinness world record for the largest canned food structure consisted of 247,580 cans and was achieved by the Architecture Students of Chulalongkorn University and the Food Industry Network Co.,Ltd. (both Thailand) at the IMPACT Exhibition Centre, Nonthaburi, Thailand.

Guinness World Records also recognized the world record for the largest can mosaic; it consisted of 101,616 drink cans in an event organised by youth volunteers from the Yew Tee Community Club Youth Executive Committee at their club in Singapore.

"It really did turn into a township-wide project, which is kind of cool," said Mark Dingelstedt, the volunteer co-chairman of the board. He praised the teenagers' persistence, The Star-Ledger reported.

"They gave a 110 percent," he said.

In the end, Dingelstedt said, the students were not alone. Engineers gave technical support. A construction company provided scaffolding. Firefighters helped with construction and donated money. Restaurants sent meals for the volunteers. School officials, Boy Scout leaders and the Police Athletic League all pitched in.

Wakefern, the distribution arm of ShopRite supermarkets, heard of the effort and donated 20,000 cans, Dingelstedt said.


Related world records:
Largest potato display: Washington State breaks world record

Largest Chocolate Sculpture: Qzina Specialty Foods sets world record (PICS)

Largest Lunchbox: CouponsforChange.org sets world record

Largest spaghetti structure: Iranian students set world record (VIDEO)

Largest Artichoke Display: Ocean Mist Farms and Rouses Supermarkets set world record (PICS)

Largest canned food structure: Can combine sets world record (HD Videos)

Largest Can Pyramid: Worlds of Fun (HD Video)