Biggest scone-world record set by The Hallett family

[April 22] TORQUAY, Devon,UK--Bakery shop owner Helen Hallett, 46, with husband Mel, 53, and their three sons created a
57lbs, 2ft in diameter scone and the world record for the biggest scone.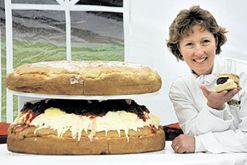 Photo: Baker Helen Hallett shows off the world's biggest scone – 700 times larger than a standard one. She made the 26kg cake with her husband and three sons for a tea-themed festival in Torquay, Devon. (enlarge photo)
The colossal cake weighs 26kg and measures 2ft in diameter and was baked at temperatures of over 230 degrees C in a mould specially constructed by welders.

It was made from a 100-year-old recipe and it included 22 pints of clotted cream. It's 700 times bigger than a standard one.

"We're excited to be entering the record books," the Telegraph quoted Helen, of nearby Paignton, as saying.

The Hallett family's creation formed the centrepiece of the world's largest ever-cream tea assembled at a tea-themed festival in Torquay, Devon.