Monday, May 14, 2012

Smallest beer shop: The Little Shop sets world record (PICS)

Leominster, Herefordshire, UK -- Andre Marsh, 34, stocks dozens of beers, ciders and fine wines at the grade II-listed High Street store which measures just 11 square metres , setting the world record for the Smallest beer shop (Smallest off licence), according to the World Record Academy: www.worldrecordacademy.com/.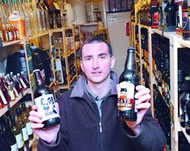 Photo: The World's Smallest Beer Shop
(enlarge photo)

The Guinness world record for the most people in a beer race (also called a boat race) is 1,328, in an event organised by the NPO Student Kick-Off at the Sint-Pieterplein, Ghent, Belgium.

Guinness World Records also recognized the world record for the largest virtual beer festival; it takes place within World of Warcraft. Once a year the warring factions of the Horde and the Alliance put down their arms and get together for 'Brewfest', the virtual homage to the Bavarian Oktoberfest. Like the real-world festival, this lasts for a couple of weeks and features the best (virtual) beers.

Mr Marsh opened The Little Shop last summer after converting it from an animal rescue centre.

Despite the cramped size, he has managed to squeeze in barrels of beer and cider for customers to sample on tap, Mail Online reported.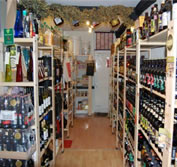 (enlarge photo)

The tiny store stocks beer, cider and perry from Herefordshire and across the border in Shropshire including familiar brewers such as Leominster-based Mayfields along with Wye Valley and Hobson's.

It also has a cider or beer on tap, according to the Hereford Times.

"There are some good pubs in Leominster," said Andre. It could lead to better things for the town.

"Unique attractions are important as many independent businesses rely upon tourism to operate."

Related world records:
Beer world records

Riding unicycle on beer bottles: Lutz Eichholz (Video)

Most People Opening Beer Bottles: Carlsberg-B set world record

Most bottles opened in one minute: Benjamin Pilon sets world record (HD Video)

First beer for dogs: Bowser Beer sets world record (HD Video)

Smallest commercial brewery: Coney Island Brewing Company set world record (HD Video)

Fastest beer dispensing system: GrinOn Industries

Most Expensive Beer - Antarctic Nail Ale

Oldest beer: 200-year-old beer

Largest house made of beer coasters: Sven Goebel

Bitterest Beer: The Hop by Peter Fowler

Lightest Beer: Budweiser Select 55

Strongest beer: Tactical Nuclear Penguin

Largest glass of beer: Auld Dubliner

Most expensive bottle of beer: Lowebrau

Largest selection of Real Ales: the Robin Hood Beer Festival

Biggest pint of beer: Timisoara

Most bier steins carried over 40 metres: Reinhard Wurtz

Monday, May 14, 2012 8:07 AM