Wednesday, November 2, 2011

First beer for dogs: Bowser Beer sets world record (HD Video)

PHOENIX, AZ, USA -- Bowser Beer has developed a non-alcoholic beer that's just for your dog: it's non-alcoholic brew ($20 for a 6 pack, bowserbeer.com) combines a mixture of malt barley and homemade chicken or beef broth in two varieties: Beefy Brown Ale for beef lovers and Cock-a-Doodle Brew for chicken eaters , setting the world record for the First beer for dogs, according to World Record Academy (www.worldrecordacademy.com).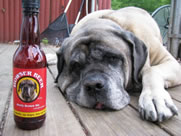 (enlarge photo)

The Guinness world record for the largest dog walk involved 18,113 dogs who took part in the Great North Dog Walk, organised by Anthony Carlisle (UK).

Guinness World Records also recognized the world record for the largest simultaneous dog stay, which involved 627 dogs at an event called "Super Sit" organized by the RSPCA at the Wag and Bone Show, Windsor Great Park (UK).

Jenny Brown from Bowser Beer: "People love to celebrate with their pets. They have parties and 'yappy hours' and all kinds of things, so this is a way for them to bond with their pets and have something healthy for them," says Jenny Brown, the creator of Bowser Beer.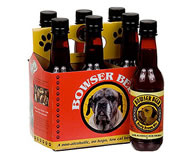 (enlarge photo)

"Instead of hops, which provide the flavor, we add the beef and the chicken," said Brown. Brown said it's high in protein, has a lot of vitamin b and glucosamine for joint health.

The reason she's so successful is because she said she markets to people, but her customers are the dogs.
"There's this incredible emotional bond people have with their pets," said Brown.

What's in Bowser Beer?
- USDA beef or chicken.
- Malt barley (full of B-vitamins) –just like in your beer.
- Glucosamine for joint health.

What's NOT in Bowser Beer:
- Alcohol or carbonation.
- Hops,which can be toxic to dogs.

"We sell a lot of Bowser Beer," said Jacki Bacha, owner of 'Oh My Dog,' "It's just a really funny gesture, the dogs love it."

Brown also said the beer can be used as a fun gift or to help your dog eat, by pouring a little 'beer' on their food.

She said it can also help with dehydration during the hot summer months.

Related world records:
First Dog Kitchen: TrueFoodForDogs

Dogs world records

Wednesday, November 2, 2011