Monday, April 2, 2012

Most Expensive Tooth: John Lennon's memorabilia sets world record (Video)

RED DEER, Alberta, Canada--Dr. Michael Zuk, 49, a dentist from Alberta, Canada paid 31,000 USD (£19,500) for a John Lennon's molar tooth after successfully winning an auction in Stockport via telephone - setting the new world record for the Most Expensive Tooth, according to World Record Academy: www.worldrecordacademy.com/.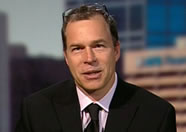 Photo: Alberta dentist Dr. Michael Zuk owns a $31,000 rotten tooth out of the mouth of Beatles icon John Lennon. (enlarge photo)

The Guinness world record for the Most expensive tooth sold at auction was set by an upper right canine tooth extracted from the mouth of Napoleon Bonaparte (Napoleon I of France), in 1817, which sold for the hammer price of £11,000 (then $19,140) at the Dominic Winter auction in Wiltshire, UK.

Guinness World Records also recognized the world record for the Largest collection of tooth brushes, set by Grigori Fleicher (Russia), who has a collection of 1,320 different tooth brushes.

The Beatles star gave the molar tooth to Dot Jarlett, his housekeeper during the 1960s and it was part of a collection of memorabilia owned by Alan McGee, former boss of record company Creation Records.

Mr Zuk is an avid fan of celebrity teeth and has written a book about famous peoples' pearly whites. He said that when he heard about the auction for Lennon's tooth he just had to buy it.

"it's probably worth a lot more than that. I was offered more than I paid very quickly afterwards," he said.

Zuk will now display the tooth in his surgery in Alberta and also has plans to take it to dental schools and show it to colleagues at other dental practices.

Video:
The World's Most Expensive Tooth

Mr Zuk said that he realises that the molar will not be everyone's cup of tea and some people will think it is extraordinary, while others will find it rather disgusting.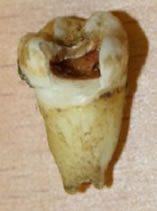 (enlarge photo)

In 1980, Lennon was shot in the back four times by Mark David Chapman. The shots came as Lennon was walking into the entrance of his New York apartment.

Mr McGee said that he had decided to sell the items because he has had enough of the music industry.

Karen Fairweather, from Omega Auctions, described the tooth as "rather gruesome"; Lennon gave the housekeeper the tooth and told her to dispose of it or give it to her daughter as a souvenir.

Related world records:
Largest toothpaste collection: Dr. Val Kolpakov

First 3D printed jaw transplant: 83-year-old woman sets world record (Video)

Largest tonsils: Justin Werner sets world record

Largest collection of toy soldiers: Spanish Museum sets world record (HD Video)

Most completed Lego sets in a private collection: Capt. Kyle Ugone sets world record

Largest collection of pull tabs from aluminum cans: Todd Mannebach sets world record

Largest collection of Converse sneakers: Penny Gold

Largest collection of miniature shoes: K. B. Shivashankar

Largest collection of beaver-related memorabilia: Betty Davis (Video)

Largest collection of autographed baseballs: Dennis Schrader (Video)

Largest gum collection: Sarah Maughan

Largest Collection of Board Games: Jeff Bauspies

Largest collection of flamingos: Sherry Knight (Video)

Biggest comic book collection: Brett Chilman

Largest collection of fire patches: Bob Brooks (Video)

Largest instant camera collection: Wong Ting Man (HD Video)

Largest Collection of Coca-Cola Memorabilia: The Schmidt Museum (HD Video)

Largest love doll collection: Bob Gibbins (Video)

Largest collection of sick bags: Niek Vermeulen

Largest Toy Collection: 'Jerni Collection' by Jerry Greene

Largest collection of milk bottles: Paul Luke

Largest collection of Beatles memorabilia: Rodolfo Vazquez

Largest Collection of Clocks: Bill Williams

Largest collection of unopened Coca-Cola bottles: John Burley

Largest collection of thermometers: Richard T Porter

Largest collection of salt-and-pepper shakers: Dorena Young

Largest collection of tea caddies: Graham Brooks

Largest Rubber Duck Collection: Charlotte Lee

Largest Easter Egg Collection: Easter Egg Museum in Poland

Largest collection of bunny memorabilia: The Bunny Museum

Largest collection of crab memorabilia: Dr Darren Martin

Largest toothpaste collection: Dr. Val Kolpakov

Largest collection of banana related items: Ken Bannister

Largest Yo-Yo collection: Dr. John Meisenheimer

Largest Signed Game-Used Jersey Card: Panini America

Largest Pokémon Collection: Lisa Courtney

Largest collection of Simpsons memorabilia: Glynne Williams

Largest collection of miniature chairs: Barbara Hartsfield

Largest collection of Pooh & Friends memorabilia: Deb Hoffmann

Largest collection of cow-related items: Denise Tubangui

Largest movie camera collection: Richard LaRiviere

Largest collection of trolls: Sophie Marie Cross

Highest auction price for a doll: Marque

Largest Napkin collection: Marilyn Boyle

Largest privately owned auto collection: LeMay Museum

Largest Barbie doll collection: Bettina Dorfmann

Most expensive letter from Titanic: Spink Smythe

Largest Mickey Mouse collection: Janet Esteves

Largest Business Card collection: Brandon Rayner

Largest collection of Santa Claus memorabilia: Jean Guy Laquerre

Largest private collection of movie cameras: Dimitris Pistiolas

Largest collection of handmade aeroplanes: John Kalusa

Largest collection of ladybug-related items: Sheri Gartner

Monday, April 2, 2012 9:00 AM