Sunday, December 30, 2012

Most Christmas Cards Received: Dalton Dingus breaks Guinness world record

SALYERSVILLE,, KY, USA -- Dalton Dingus, a Kentucky boy who has stage four cystic fibrosis, which is terminal, is trying to break the Guinness World Record for the most Christmas cards received; to date, Dalton has received more than 700,000 Christmas cards - setting the new world record for the Most Christmas Cards Received, according to the World Record Academy: www.worldrecordacademy.com/.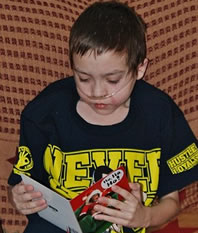 Photo: Dalton, who has cystic fibrosis, has received more than half a million cards, including many from around the world. (enlarge photo)

The Guinness world record for the Most Christmas Cards received was set 20 years ago by Jarrod Booth, a Canadian who received 205,120 cards.

Guinness World Records also recognized the world record for the largest collection of Pokémon memorabilia; it belongs to Lisa Courtney (UK), with 14,410 different items.

On Christmas Eve alone, Dalton's mom, Jessica Dingus, said he received between 40,000 and 50,000 cards. The post office in Campton had to make two truck deliveries.

Postal workers in Magoffin County, Ky. created a giant post card and hand-delivered it to Dalton Dingus.

The post card delivered by the postal workers is 4 feet tall and 8 feet long. It weighs 46 pounds and officials think it could be the largest card ever. Postal workers said they paid $90 for the card's postage fee.

Now the cards are going to Dalton's grandpa's church, the Bethlehem Calvary Church in Salyersville, where they are sorted and counted by hand. The special visits and deliveries, including a giant card from the Post Office, which Dalton's mom said he really loved, have made the season bright.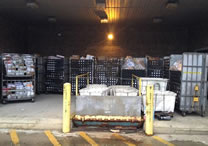 Photos: The youngster has received more than half a million cards, which no longer fit in his family home.
(enlarge photo)

Dalton takes 18 different medicines every day, "lots of pills and antibiotics," his mother says.

He goes through 12 liters of oxygen a day and wears a face mask to help him breathe, making him look like a miniature fighter pilot with an interest in coloring and playing with Lego blocks.

"Dalton has been doing really well the past three weeks. He is still very weak but improving," Jessica said. "The cards give him something to look forward to. Something to get excited about," she said. "The prayers are working."

"But prayers aren't enough for the sticklers at Guinness World Records," the ABC News reported. Despite some reports that Dingus had already broken the record for receiving the most Christmas cards, spokeswoman Jamie Panas said Guinness World Records "currently does not monitor a category for this."

To prevent another Shane Bernier case, when another boy has died before receiving any sort of recognition, World Record Academy (which dosen't have any sort of limitation on record categories, etc), decided to recognize the boy's achievement mostly based on media reports (and photos) about the huge volume of the incoming mail to Dalton's home (two mail trucks a day, for the last two weeks).

It may take few more weeks to have the exact figures, but only God knows if Dingus will have so much time left. For the purpose of beating the previous Guinness world record, the current estimated figures were big enough.

Related world records:
Most Birthday cards received: Shane Bernier

Longest letter to Santa Claus: The Romanian Post

Largest collection of label pins: Arvind Sinha sets world record (PICS)

Largest collection of model cars: Dr. Hank Hammer sets world record (PICS)

Most expensive sports memorabilia: Babe Ruth jersey sets world record

Largest collection of stamps featuring birds: Daniel Monteiro sets world record

Largest collection of pizza memorabilia: Brian Dwyer sets world record (Video)

Largest Collection of Chevrolet Memorabilia: Charlie Mallon sets world record (PICS)

Largest walking sticks collection: Billy Sutton sets world record

Most Expensive Tooth: John Lennon's memorabilia sets world record (Video)

Largest collection of toy soldiers: Spanish Museum sets world record (HD Video)

Most completed Lego sets in a private collection: Capt. Kyle Ugone sets world record

Largest collection of pull tabs from aluminum cans: Todd Mannebach sets world record

Largest collection of Converse sneakers: Penny Gold

Largest collection of miniature shoes: K. B. Shivashankar

Largest collection of beaver-related memorabilia: Betty Davis (Video)

Largest collection of autographed baseballs: Dennis Schrader (Video)

Largest gum collection: Sarah Maughan

Largest Collection of Board Games: Jeff Bauspies

Largest collection of flamingos: Sherry Knight (Video)

Biggest comic book collection: Brett Chilman

Largest collection of fire patches: Bob Brooks (Video)

Largest instant camera collection: Wong Ting Man (HD Video)

Largest Collection of Coca-Cola Memorabilia: The Schmidt Museum (HD Video)

Largest love doll collection: Bob Gibbins (Video)

Largest collection of sick bags: Niek Vermeulen

Largest Toy Collection: 'Jerni Collection' by Jerry Greene

Largest collection of milk bottles: Paul Luke

Largest collection of Beatles memorabilia: Rodolfo Vazquez

Largest Collection of Clocks: Bill Williams

Last update: Monday, November 18, 2013 4:35 PM