Friday, June 8, 2012

Largest collection of label pins: Arvind Sinha sets world record (PICS)

MUMBAY, India -- Arvind Sinha, a 57-year-old business consultant and a Lion's Club member, had collected 30,000 pins from 80 countries , setting the world record for the Largest collection of label pins, according to the World Record Academy: www.worldrecordacademy.com/.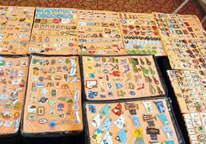 (enlarge photo)

The Guinness world record for the largest collection of decorative pins was set by John Williams (UK), who has a collection of 9,748 decorative pins in the form of rugby lapel badges.

Guinness World Records also recognized the world record for the longest chain of safety pins; it measured 33.52 metres (109 ft 11 in) and was created by volunteers in an event organized by Sparebanken Hedmark (Norway) in Stange, Norway.

"Lapel pins are a symbol of the times and you can learn a lot through them. They are markers of world history events such as the American Civil War, the history of guns and American Presidents," elaborates Sinha.

As a business consultant, this Mumbaiite travelled extensively all over the world and began stacking up pins from hotels and airports.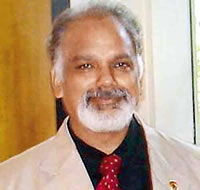 Photo: Mr Arvind Sinha, the owner of the world's largest collection of label pins
(enlarge photo)

Sinha has a soft corner for the lapel pins from the American President series, the gun series and the pins in the shape of a horse cart and locomotive (from the USA).

Sinha's family hasn't been spared of his passion: "My son who is based in London collects pins for me. My wife has also been supportive. It's a part of my life and a useful hobby for my free time."

Since the lapel pin collection is presently in Sinha's house, office and warehouse, he plans to set up an online museum to display it, to enable universal access.

Next up, Sinha plans to collect pins issued by the Indian Army, Navy and NASA, and to expand his collection to include 50,000 pins.

Related world records:
Largest collection of model cars: Dr. Hank Hammer sets world record (PICS)

Most expensive sports memorabilia: Babe Ruth jersey sets world record

Largest collection of stamps featuring birds: Daniel Monteiro sets world record

Largest collection of pizza memorabilia: Brian Dwyer sets world record (Video)

Largest Collection of Chevrolet Memorabilia: Charlie Mallon sets world record (PICS)

Largest walking sticks collection: Billy Sutton sets world record

Most Expensive Tooth: John Lennon's memorabilia sets world record (Video)

Largest collection of toy soldiers: Spanish Museum sets world record (HD Video)

Most completed Lego sets in a private collection: Capt. Kyle Ugone sets world record

Largest collection of pull tabs from aluminum cans: Todd Mannebach sets world record

Largest collection of Converse sneakers: Penny Gold

Largest collection of miniature shoes: K. B. Shivashankar

Largest collection of beaver-related memorabilia: Betty Davis (Video)

Largest collection of autographed baseballs: Dennis Schrader (Video)

Largest gum collection: Sarah Maughan

Largest Collection of Board Games: Jeff Bauspies

Largest collection of flamingos: Sherry Knight (Video)

Biggest comic book collection: Brett Chilman

Largest collection of fire patches: Bob Brooks (Video)

Largest instant camera collection: Wong Ting Man (HD Video)

Largest Collection of Coca-Cola Memorabilia: The Schmidt Museum (HD Video)

Largest love doll collection: Bob Gibbins (Video)

Largest collection of sick bags: Niek Vermeulen

Largest Toy Collection: 'Jerni Collection' by Jerry Greene

Largest collection of milk bottles: Paul Luke

Largest collection of Beatles memorabilia: Rodolfo Vazquez

Largest Collection of Clocks: Bill Williams

Friday, June 8, 2012 6:37 AM