Highest-grossing toy auction

[Oct 31]DENVER,Pa,US--The 489-lot Stephen and Marilyn Steckbeck collection of antique mechanical banks and related ephemera set a new world record for a toy auction, grossing $7.7 million, becoming the highest-grossing toy auction of all time.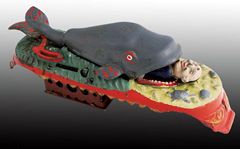 A near-mint-plus example of J. & E. Stevens cast-iron Jonah and the Whale/Jonah Emerges bank led the sale's top 10 with a selling price of $414,000 (all prices quoted are inclusive of a 15 percent buyer's premium).
(enlarge photo)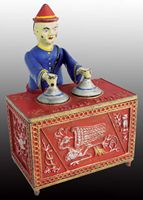 The late-1880s moneybox depicting Biblical character Jonah being expelled from the mouth of a whale flew past its $150,000-$200,000 estimate to become the second-most-expensive mechanical bank ever sold at public auction.

An 1886 Kyser & Rex Mikado illusionist bank and an 1880s Charles A. Bailey bank depicting an African-American boy landing a fish at the end of his pole tied for second place, with each achieving $287,500. (enlarge photo)


Another tie landed two items in the third-place slot: an 1888 Stevens bank in which an African-American man kicks a football over a watermelon, and an 1880s Kyser & Rex Roller Skating bank. Each of the banks realized $195,500.
(enlarge photo)

The internationally renowned Steckbeck collection was built over a 53-year period, and its high-profile sale attracted a who's who of bank collectors and dealers from throughout the United States, the United Kingdom and Continental Europe.

CBS will air a special feature on the Steckbeck auction and the world of mechanical bank collecting on a future edition of its venerable Sunday Morning program.
Source: Morphy Auctions