Napoleon's sword sold for world record price of $6.4m

[June 11] FONTAINEBLEAU, France-- A gold-encrusted sword used by Napoleon has been sold at auction in France for 4.8m euros (£3.3m; $6.5m).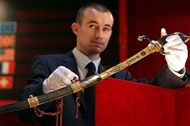 Photo:
An auction house employee displays a gold-encrusted sword Napoleon wore into battle in Italy, the last of Napoleon's swords in private hands, during its auction at the Fontainebleau auction house, southeast of Paris June 10, 2007.(click here to enlarge photo)The sword was sold on Sunday for more than euro4.8 million (US$6.4 million), the auction house said.The buyer was not immediately identified. /AP

Auctioneers said the sword, used in battle some 200 years ago, achieved a world record for Napoleon memorabilia.

The sword, which belonged to eight of the emperor's descendants, was believed to be the last of Napoleon's blades in private hands.

The intricately decorated blade is just under 100cm (40in) in length and has a distinctive gentle curve.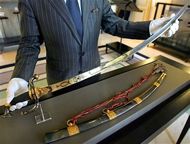 Photo:
French auctioneer Jean-Pierre Osenat presents a gold-encrusted sword Napoleon wore into battle in Italy in June 1800, in this May 25, 2007 file photo taken in Paris.
(click to enlarge)
The last of Napoleon's swords in private hands, it has an estimated value of euro1.2 million to euro1.5 million (USD1.6 million to USD2 million). The Osenat auction house, managing the sale, said it may sell for two to three times that amount. It will be auctioned off Sunday, June 10, 2007 across the street from one of Napoleon's imperial castles in Fontainebleau, south of Paris

Egyptian inspired design
The sword, which had only been expected to achieve some 1.2m euros was sold in the town of Fontainebleau, near a castle Napoleon used as a retreat.

"It's a world record for a souvenir of the emperor, for a sword and for a weapon in general," auction house spokesman Bernard Croissy said.
The inspiration for the sword's design is said to have come during Napoleon's Egyptian campaign. He noticed that the swords used by the Arabs, which were also curved, were very effective in cutting off the heads of their French enemies.

The French general is said to have carried the sword into battle at Marengo in June 1800 - before he became emperor - when he launched a surprise attack to push the Austrian army out of Italy and seal a victory for France.

After the battle, Napoleon gave the sword to his brother as a wedding gift and it was then passed down the family through the generations.

The sword was declared a national treasure in 1978 and, while it may be sold to a foreign buyer, they must have a French address and keep it in France for six months a year.