Largest cash poker tournament set world record

[Aug 8] DOUGLAS, Isle of Man--PokerStars, the world's largest online poker site, shattered the record for the largest cash poker tournament on July 29th with the Sunday Hundred Grand.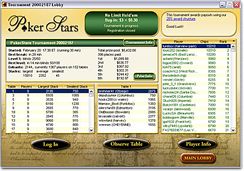 The tournament drew a field of 20,000 online poker players to the largest cash tournament in history.
First place finisher Lynna1 captured the top prize, netting her $20,000 and an almost 2,000% return on investment after only a $10+$1 buy-in.
Surpassing yet another landmark, PokerStars recorded its 10 millionth customer. In just one year, PokerStars has doubled its community of players from 5 million to 10 million. Proving that poker has become a truly worldwide phenomenon, PokerStars is attracting players from nearly every country on the planet.
"No other site brings the level of excitement, skill, and challenge that poker players crave," said recently signed Team PokerStars Member Daniel Negreanu. "The Sunday tournaments on PokerStars provide an unrivaled opportunity to prove your poker prowess with a lucrative prize pool that matches the highest level of competition."

PokerStars (www.pokerstars.com) is the world's largest and most innovative online poker site with more than ten million players worldwide. PokerStars was the first site to introduce features that became the industry standard and offers the highest levels of security and customer support in the online poker world. To date, PokerStars has dealt out over ten billion hands and run more than 50 million poker tournaments, awarding well over $7 billion in prize money. PokerStars is the world's largest poker tournament room running over 50,000 tournaments every day.

The PokerStars Sunday Million weekly event is the largest weekly tournament on the planet with a $1 million guaranteed tournament prize pool.