Tuesday, November 29, 2011

Highest denomination polymer plastic banknote: Romanian banknote sets world record (Video)

BUCHAREST, Romania -- Romanian 1 Million (1,000,000) Lei banknote, issued in 2003 by the Romanian National Bank 'BNR' (no longer legal tender: four zeros were dropped in the 2005 currency reform), sets the world record for the highest denomination polymer plastic banknote, according to World Record Academy (www.worldrecordacademy.com).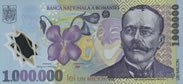 Photo: The World's Highest Denomination Polymer Plastic Banknote.
(enlarge photo)

The Guinness world record for the most money received for a virtual world is the $350 million (£175 million) paid by The Walt Disney Company for the children''s MMO Club Penguin (New Horizon Interactive, 2005) in 2007.

Guinness World Records also recognized the world record for the most money raised for charity by an individual marathon runner: £2,330,159.38 ($3,795,581.14), set by Steve Chalke (UK) who raised the money for Oasis UK by completing the Virgin London Marathon, London, UK.

As of 2011, at least seven countries have converted fully to polymer banknotes: Australia, Bermuda, Brunei, New Zealand, Papua New Guinea, Romania and Vietnam.

Other countries and regions with notes printed on Guardian polymer in circulation include: Bangladesh, Brazil, Canada, Chile, Dominican Republic, Hong Kong (for a 2-year trial), Indonesia, Israel, Malaysia, Mexico, Nepal, Solomon Islands (no longer issued), Sri Lanka, Thailand, Samoa, Singapore and Zambia. Canada released its first polymer bill ($100) on November 14th 2011.

Characteristics of the Romanian banknote:
- Size: 168 x 78 mm
- Main colour: light blue
- Intaglio (raised) printed on polymer

Obverse:
Portrait of Ion Luca Caragiale (1852-1912), Romanian playwright, author and short-story writer.

On the center: Violet flower (Viola sororia), a theatre mask and the Comedy mask, one of the theatre symbols.

On the upper part: Romanian Coat of Arms, name of the issuing central bank "BANCA NAŢIONALĂ A ROMÂNIEI" and "BNR" medallion.

On the lower part: banknote denomination in figures and letters "1 000 000 lei UN MILION" and issue year "2003".

Under the flower, authorized signatures of the Governor, of the Chief Cashier. Placed under the portrait, on the right side, the writer's signature, in facsimile. T

The value "UN MILION 1.000.000" is placed vertically, on the right.

Reverse:
Old building of the National Theatre in Bucharest.
On the left, statue of the playwright.
On the right, the other theatre symbol, the Tragedy mask, in golden print.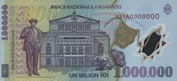 (enlarge photo)

On the upper part, denomination value "1000000" vertical and horizontal, the name of the central bank "BANCA NAŢIONALĂ A ROMÂNIEI" and "BNR" logo.

On the lower part, on the right: denomination value in letters and figures "UN MILION lei 1 000 000"; left, "BNR" logo within a rectangle.

Video: Polymer Banknotes of Romania

Related world records:
Smallest paper money: Romanian 10-bani note sets world record

Largest gold coin: Australia (HD Video)

Largest chocolate coin: Science World

Most Expensive Coin: 1794 Liberty dollar

Most expensive Australian banknote: The Rare Coin Company

Biggest Coin: a Million Dollar value

Largest Coin-like Medallion: Damas

Largest flag made out of coins: Jin Jeong-gun

Longest line of coins: THINK Together

Tuesday, November 29, 2011