Fastest building of a pool by 'We Fix Ugly Pools'
[August 5] PHOENIX, AZ, US -- In less time than it takes to drive to the Pacific Ocean, We Fix Ugly Pools built a backyard swimming pool for a Central Phoenix family in less than 6 hours.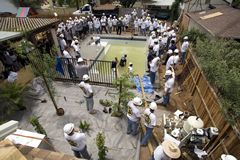 The Phoenix-based company set a world record for the fastest building of a pool.

(click here to enlarge photo)

According to research by Brian Morris, owner of We Fix Ugly Pools, previous pool building records were 13 to 16 hours.

"Five hours and 56 minutes later, we were done," Morris said. "We started at 6 a.m. By 9 a.m. we already shotcrete the pool. The Phoenix Fire Department filled the pool with water in nine minutes. "

Morris said an extreme home improvement show gave him the idea of beating a pool building record. Morris joked to Julie and Michael Fish, who had signed a contract for a pool in June, that he could build their pool in one day.

Both Morris and the family declined to say how much they paid for the pool. But Morris said the entire job would normally cost more than $55,000.

"She opened up her house and her life to us," Morris said. "We wanted to give her a pool and landscaping that would be very (energy efficient)."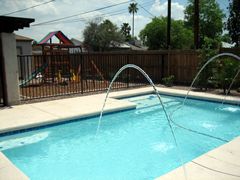 Around 3:30 p.m. workers showed the Fish family how to remove the pool's safety cover. The couple's son, Grant, and some neighborhood kids jumped into the pool.

"It was pretty impressive how everything came together," said Morris. "At one point we had over 150 people working simultaneously. We all had an end goal in mind. We're pretty excited about it."

Link: World Record Pool Build website

Link: 'We Fix Ugly Pools' website