Tallest sandcastle-wolrd record set by Ed Jarrett

[Sep 1] CASCO, Maine--A sand castle built nearly 32 feet high to raise funds for a camp for terminally ill children and their families has become the new world record for the Tallest sandcastle.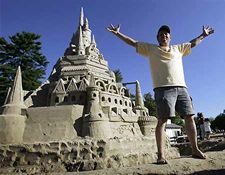 Photo:
Sept. 1, 2007;Ed Jarrett celebrates completion of his world-record 31.7-foot-high sand castle, at the Point Sebago Resort in Casco, Maine.
Jarrett spent the summer building a "Castle to the Sun" to raise funds to benefit Camp Sunshine, a camp on Sebago Lake for children with life-threatening illnesses. Just under a million pounds of sand - forty dump truck loads - went into building the castle. /AP photo

Ed Jarrett's creation at Point Sebago stands 31 feet 7 inches, beating his old record by 2 feet 4 inches.

Almost 2000 volunteers helped him pack the sand, while donating to Camp Sunshine, a getaway for families of children with life-threatening illnesses. Volunteers also used 40 dump-truck loads of sand.

So far, the "Castle to the Sun" has raised $100,000. If you'd like to see it, you can visit Point Sebago between 10am and 5pm through Monday.

Ed Jarrett, who created a 29 1/4-foot sand castle in Falmouth, Maine, that was declared the world's tallest in 2003, organized the "Castle to the Sun" event to raise funds for Camp Sunshine.