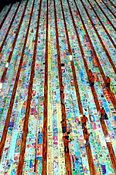 Longest painting-world record set by youth association
[Aug 20] WAKAYAMA, Japan-- Some 3,500 people have helped create the world's longest painting that stretches some 4,663 meters.

The Naga association of youth in Iwade, Wakayama Prefecture, organized the painting.

Since May the group spent 34 days working on the painting on more than one hundred pieces of paper sized 25 meters in length and 50 centimeters wide. They mostly painted natural scenery and trains.

The painting they created is some 800 meters longer than the former world record acknowledged by the Guinness Book of World Records.