Longest painting made by Oracle set world record

[July 19] Paris, France-- Oracle, the world's largest enterprise software company, has announced that 650 employees from across Western and Central Europe have teamed up to break the record for the World's longest painting by creating a painting 120m long, breaking the previous record by 10m.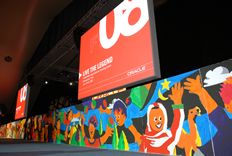 The world record attempt, held at Disneyland Paris, was organised to raise money for Leukaemia Research, a UK based charity devoted exclusively to funding research for leukaemia and related blood cancers.

Money raised through the event will go towards the annual Kids Party. Leukaemia is the most common childhood cancer and thankfully research is working and more children are now surviving. Every year 150 leukaemia patients and their families are taken on an all expenses paid family holiday - paid for with funds raised through charity events held throughout the year. This year's event, held in September, will be hosted by Disneyland, Paris.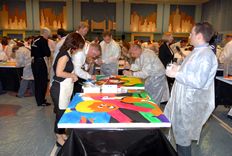 "To hold a world record is one thing but to have achieved it in support of such an important cause is something else," said Loic Le Guisquet, SVP Oracle. "We are incredibly proud to support the work that Leukaemia Research is doing in the UK and, in conjunction with other cancer charities, across the whole of Europe."

The Oracle team hopes to raise over 7,500 euros in support of the Kids Party which will be matched by a similar 7,500 euro donation from Oracle. The company plans to auction off the canvases individually to raise further funds for the charity over the next few months.

"The Kids Party gives families living with leukaemia a much needed break and a chance for them to do something fun together. We are delighted that Oracle choose to support this cause and very grateful for the team's efforts. Any additional funds raised through auctioning the paintings will go towards funding research