Longest Meeting Table-world record set by ExCeL London

[Oct 19] LONDON, UK-- ExCeL London set the World Record for the World's Longest Meeting Table to mark its support for National Meetings Week 2007.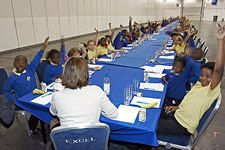 Taking part in the record were 200 pupils from the local Britannia Village Primary School who acted as meeting delegates and sat round the 80 metre long table.

Commenting on the attempt, Vanessa Cotton, ExCeL London Managing Director, Conference and Events said: "We are pleased to have been able to make this World Record attempt as part of our support for National Meetings Week and it's been great that our local primary school could also play a part."

"We used the record attempt to talk to the children about healthy eating and the importance of getting their five pieces of fruit and vegetables a day," added Vanessa.

(i)National Meetings Week (5th-19th October 2007) now in its seventh year raises awareness of the significant contribution the meetings and events industry makes to the UK economy each year.

Interesting Facts
- Based on his world record for the 100 metres It would take Linford Christie 7.89 seconds to sprint the length of the table
- Based on the world record for the triple jump, set by Jonathan Edwards in 1995, it would take approximately four times to jump the longest meeting table length
- You can fit 8.4 London Double Decker Buses alongside the longest meeting table.

Meeting Facts
- According to a survey 98.7% of business people believe that face-to-face meetings are more productive than phone or email communication
- A recent survey shows that business people in Britain spend nearly half their working life in meetings (45.9%), significantly higher than any other European country.




Fastest single-turbine engine plane