Longest loo roll made by Andrex set world record

[July 13]LONDON, UK--Andrex set a new World Record on Wednesday, after unveiling the longest loo roll along Olympic Way by the new Wembley Stadium.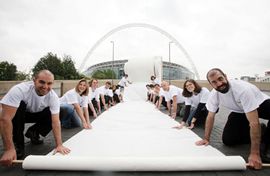 Measuring 18,362 metres long and weighing 653kg, this toilet roll could stretch almost the whole length of the Victoria Tube Line, and would surely take the Andrex puppy many hours to unravel around the house.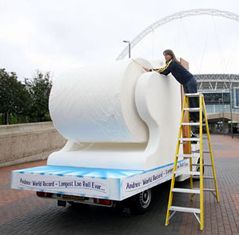 The roll, 1.68 metres in diameter, was unwound from a specially designed toilet roll dispenser, with the help of the giant Andrex Puppy Man, who then went on a lap of London to celebrate the event.

A spokesperson for Andrex said: "The attempt was hugely successful. We have created a completely brand new record, and it was all made out of genuine Andrex."

The World Record for the longest loo roll ever was created by Kimberly-Clark in celebration of the launch of new Andrex(R) Longer Lasting toilet tissue in the UK.