Longest feather boa ever made

[June 2] LAS VEGAS, US/ Ostrich.com has produced the world's longest feather boa—measuring over a mile long—to be entered in the Guinness Book of World Records. The oversized accessory is scheduled to be unveiled at this year's Miss Exotic World Weekend in Las Vegas on June 8.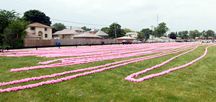 Photo:
(click to enlarge)
At the Miss Exotic World Pageant, ostrich.com and over two hundred exotic dancers will display the longest feather boa ever made and attempt the world's longest Bump & Grind.

"The design, preparation, and transport of a continuous piece of feather boa over 5,000 feet long is a logistical nightmare, and after a lot of hard work from our dedicated staff, the final product is now set for this world record attempt," explained Steve Warrington, president of Ostrich.com, in a press release.
Not content with one record-breaking entry, Ostrich.com has also scheduled the world's longest "Bump-n-Grind" to occur simultaneously with the unveiling of the boa. Over 250 exotic dancers are expected to attend.

"Everyone is welcome to attend this Guinness world-record attempt," Warrington said. "We are certain that it will be a fun-filled and historic moment when everything is synchronized simultaneously." For the feather-loving fan, Ostrich.com will sell 12-foot segments of the record-setting boa with numbered certificates and copies of the Guinness World Record verification.

Ostrich.com, based in Chicago, imports and exports a variety of ostrich products including feathers, boas, meat, leather, dusters, eggs, livestock, and reference material. The company also publishes the world's largest-circulation ostrich newsletter with over 55,000 subscribers.

Ostriches are native to central and southern Africa. According to the San Diego Zoological Society, they are at low risk of becoming endangered.