Largest wheat paddock-the Coggan family sets world record

[June 14] QUEENSLAND, Australia--The Coggan family from Meandarra on Queensland's Darling Downs has planted 905.48 hectare of wheat in 24h, smashing the previous world record of 579ha while raising funds for heart and lung transplant research at Brisbane's Prince Charles Hospital.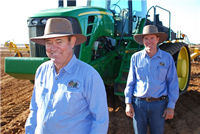 Photo: John and son Phillip Coggan (enlarge photo)

The Coggan family are fifth generation farmers with their holdings spread across 20,000 hectares at Meandarra in south west Queensland.

For the record, the Coggan's fine-tuned their Simplicity air seeder and Multi Farming Systems planter, which spanned 36m (120ft), hitching them behind a 397kW (530hp) John Deere 9630T tracked tractor.

The statistics involved in this ambitious venture required some pretty handy logistics management because every three hours stops were needed to top-up with seed and fertiliser. However, as down-time was limited to about six minutes every three hours, the team was able to achieve an average sowing rate of about 38ha/hour over their 24-hour bid.
John and Phillip Coggan also acknowledged the part played by other members in the four-strong team, namely farm staff Les Bruce and Stephen Wall.

Assisted by JP and local bus driver, Jerry Lynis, the Department of Natural Resources and Water's Dave Waters, the CSIRO's Peter Carburry and the Department of Primary Industries and Fisheries' John Sheppard, leaving the ground covered during the attempt to be overseen by GPS technology belonging to Goondi Communications' Gary Turner.

Three years ago, 60 year old Mr Coggan received a life saving heart transplant at the Prince Charles Hospital in Brisbane.

"The doctors there are magicians. I only had a 10 per cent chance of surviving and they pulled me through," Mr Coggan said.

He had collapsed and was in an induced coma for seven weeks.

During that time his chest was opened up 12 times and he received 150 units of blood and 200 units of factors to allow his blood to clot. Grateful for his second chance at life the family has contributed privately to the hospital foundation but hope the World Record for the largest wheat field sown in 24 hours will raise extra funds.

The idea to attempt the World Record came from Mr Coggan's eight year old grandson Tom.

He saw a story on an Ukraine farming company setting a seeding world record and said to his father Phillip, "Do you think we could do that. Could we set a world record Dad?"

The challenge has grown into an all-consuming family affair with Phillip's wife Cindy spending a year organising the event.

The record attempt has raised about $40,000 so far for the Prince Charles Hospital Foundation's research on artificial hearts.